"Excuse me, you look familiar," I say to a deadpan bald man with glasses, holding a pitcher of beer with a puffy vest jacket. He pours me three fingers of a cloudy gold beer. "I don't think we've met," he says as I squint and take whiff. Croissant and a lick of caramel on the nose, I think to myself…where have I had this beer?
"I'm Tomme Arthur, pleased to meet you." I totally knew that. I just get bashful when meeting pioneers of the beer business. "This is Avant Garde, our farmhouse lager."
On the back patio of Verdugo Bar (a Ryan Sweeney joint), picnic tables are strewn about topped with Delirium Tremens pink elephant umbrellas and beer signs from around the globe. Each table is filled with corked and caged Lost Abbey beers and lit beer label veladoras. Surprising is the total lack of petrichor despite a windy downpour that ended an hour ago.
The evening is hosted by The Lost Abbey for industry publicans and bottle shop big wigs. A few beer writers were sprinkled in for good measure; I'm glad to get the call.
The Lost Abbey, San Diego's only quality volume sour/funky beer producer (in my opinion), is here to re-introduce themselves and do a tasting of rare beers. L.A. and O.C. have a wealth of quality mixed fermentation breweries, and sometimes a gentle reminder of what the pioneers can do is a breath of fresh air.
Jon Sanchez, owner of Native Son Alehouse in downtown Santa Ana, noted, "Lost Abbey kegs are reasonable compared to the competition." From my standpoint, It seems like pints of Lost Abbey beers cost more. He went on to add that one L.A. brewery raised the price of their kegs to keep cost in line with what some establishments charge for pints. The perception that wild ales cost more isn't always the case.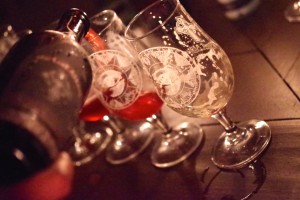 Over three hours, we rifled through nine beers, pouring faster than consumption. Veritas 17 with Blackberries was my absolute favorite, noting it smelled like fresh linens stained with fresh berry jam, and was super soul-refreshing. I do hope we see some of these showing up on tap handles soon, as it seems the most storied barrel programs in the U.S. needs to get back on the front page.
Beers sampled:
Avant Garde – farmhouse lager
Devotion – dry hopped Belgian blonde
Hop 15
Red Poppy – sour with cherries
Veritas 17 – sour with blackberries
Cuvee de Tomme – 15
Cuvee de Tomme – 09
C-9 – barley wine with peaches aged in conjac barrels
Ad Idem – sour with peaches.