A grit can be described as a small stone, just big enough to count with the naked eye. It can also be used to describe backbone, big enough to pull off a packed $135 per sitting beer dinner in downtown Fullerton…at a brunch spot…a few days before Christmas. Stone? Yeah, there was Stone, eight of them to be exact.
For the price tag, Grits Fullerton had a lot to live up to. I went in thinking it needed flow, cloth napkins, and extended pinkies. I thought, we would all get to dive into Stone's cellar and come out like masked robbers. Having been to two chef Cody Storts beer dinners and two "Dr." Bill Sysak pairing events, I know the madness both are capable of.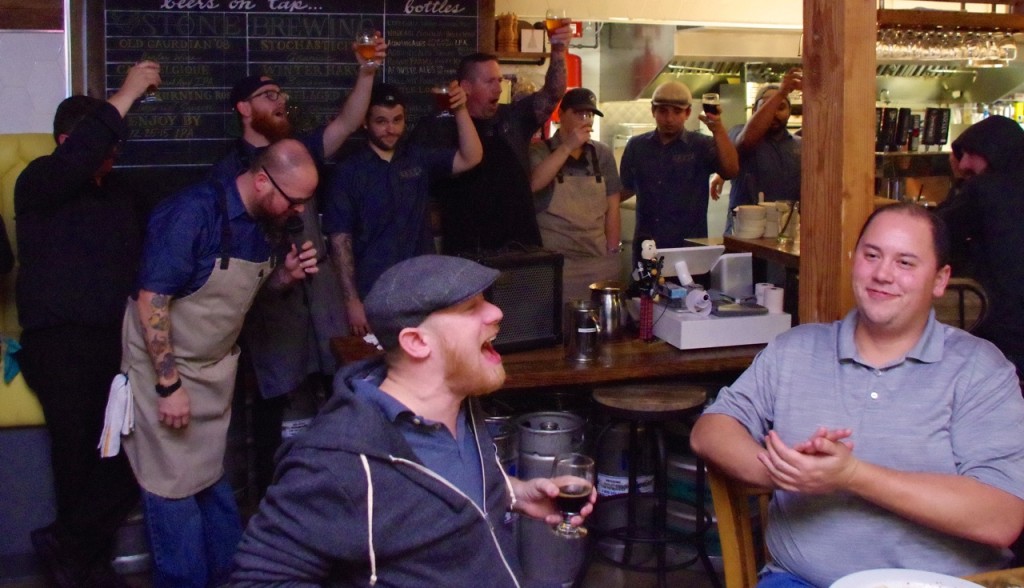 When the first beer is 2008 Stone Brewing Old Guardian Barleywine at 11%, the tone has been set. This isn't going to be a hoity-toity affair. This is going to be a feast.
Various animals, grains and vegetables are shuffled and hit the table like a no-limit poker game. Plates like cards, beer glasses like poker chips. Do I go all-in or fold?
Amuse #1 and #2 down the hatch, "now the fun begins," yells chef to applause. Smoked trout rillettes paired with Matt's Burning Rosids, an imperial smoked saison, is served. I've seen this beer pulled out for a few events over the years and is drinking beautifully. RIP Matt, always glad to remember a comrade, your burning rosids beer and rillettes didn't leave much for the dish cleaning crew…it was my fave of the night!