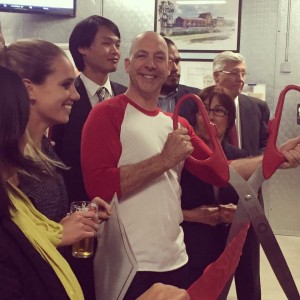 I hope you read my break up letter to Golden Road a while ago, and although the facts still remain (AB Inbev does bad things to small craft breweries), things are complicated.
Victor Novak, a friend and very talented brewer, is taking over brewing ops for GR. Besides being a great guy that has made award-winning beer in OC for 15 years at TAPS, having him steer the ship at GR has changed my position. This is where it's complicated. As long as he and the brewing team are making changes to the beer to make it better, I'm cool with it. If their sales team does shitty things, I'll be quick to lash out. I'm not "cozy" with them and don't get free beer or whatever. I will simply recognize them as a brewery that makes beer in OC when they do so.
The breakup post was meant more of a "why AB?" type of thing and to show some facts about how AB is horrible. Sure it was knee-jerky, but it was fun to write and get off my chest.
I'm old. Like, your dad old. I've seen craft beer from the early days and understand that beer is business, including craft beer.
In the past, I have openly criticized Golden Road for having mediocre beer with the OG brewer. When Jesse came along from Drakes, the beer improved, but I also criticized that some of the hoppy beers taste the same (until the Works IPA), and other beers were just okay. If you think they suck, that's your opinion and I'm fine with that. Drink what you like, you guys.
Sure, the Brewers Association says they're not craft beer anymore…along with Ballast Point, Lagunitas, Saint Archer, Goose Island, Elysian, 10 Barrel, and the next fifty sellouts. I'm committed to covering local beer that's made in Orange County. If the beer GR makes in Anaheim sucks, I'll be the first to shout it from the top of the Big A along the 57 freeway.
I firmly believe the definition of craft beer needs to change. If a brewery sells a majority stake to a non-craft brewery, yet the brewers, founders and quality stay the same, I no longer have issue with buying the beer. I just won't call it craft, I guess.
Golden Road is pumping 25 million dollars into the city of Anaheim and will employ over 100 people. This is pretty cool as an Anaheim resident.
They're a charitable organization, donating to Firkfest and things like Heal the Bay.
So, what does this mean? As long as the Golden Road brewing team remains devoted to improving quality, I don't see any hijinx on the sales/distribution side and people aren't assholes, I'll cover them as a brewery that makes beer in OC. I will continue to be opinionated and remain objective. If you don't want to drink it or read about it, it's a free country. I have promoted craft beer for almost five years on this site and my mission statement is just that. Did I flip flop? I suppose so. Sorry about that.