Event in San Luis Obispo County Has only barrel aged beer, wine and booze at historic ranch. – By Greg Nagel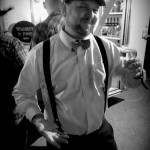 With an event like 'From the Barrel' by Firestone Walker, irony sets in quickly as I realize we're all just a bunch of booze sitting inside wood. At the historic wooden-planked Santa Margarita barn (in San Luis Obisbo County), every beer, spirit and cocktail has spent time in a wooden barrel. The guests? Dressed to the nines in prohibition-era fashion and, well, also surrounded by staves of lumber.
Session beer drinking since noon, my suspender-hooked suit pants and bow tie are providing some gentle, yet pleasant asphyxiation, I feel like this thing could all burn down with one careless flick of a cigarette.
Twinkly lights strewn across the dusty floor guide my way to the first beers of the night. Societe and Russian River are sharing a table like nephew and uncle at a roadside farm stand. Societe's The Highbinder (American wild ale) next to Russian River's Beatifiation? As a man of constant sorrow, I take a sip and whistle dixie. It's hard to see the color in the low lights, but it does appear to have blushed from touching my lips. What a tart! The Highbinder gives me subtle wood; French oak wine barrel I presume. I pucker. It's wet and unscrupulous. I get to the bottom and go for thy neighbor. Temptation sets in as our eyes meet. Does The Highbinder stand up next to Russian River's bottled seductions? Absolutely. Beatification nearly blows my wad, so grab a smoke outside to relax.
The walkways are tight as I politely move about the barn. Rock steps tunnel the side entrances and juxtapose the gams propped up by throwback stems. The gentle plucking of a stand-up bass rhythmically blum-blum-blums throughout the night causing a few bleary-eyed people to dance. Outside, a bonfire flickers light across the way, highlighting cloche hats, pearls, fur and sparkled gowns. I flick my smoke safely and head back in.
"There's no better way to feel like you're back in the 1920's than when your phone has zero bars." – Overheard near the bonfire

The little devil on my right shoulder whispers something about rye whiskey and I tell him, "just one." Three Highspires and a Templeton Rye later, the angel on the left whispers something about "food."  Thankfully, there's an abundance. I'm not much of a fan of sliders, so I sure as hell heist four or five ahi-poki chips and some sort of seafood bruschetta near the back window (completely surrounded by cats, by the way).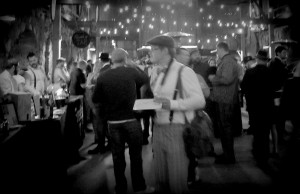 Wanting desperately to avoid a hangover before a long weekend, bourbon barrel aged beers are being avoided at all costs. Why drink a beer that had sloppy seconds with a bourbon barrel? As I get older, my craving for bourbon instead of bourbon tea-bagged beers continues to grow. It's all about the blend and this event has the best…but I'm still not biting.
As the night fiddles away, the crowd grows thin. Ladies get loose enough to smoke some robusto-sized cigars. Suspenders are snapped, violently. 10 P.M. comes, and so does my bus to Paso Robles. Where did the night go? Angel's share, I suppose.
———————
From the Barrel is now in its fifth year. It's a great event with some heady drinks – only way to conquer it is to divide, sip and dump what you're not thrilled with. Firestone Walker puts on some seriously great events and this ads to their line up. I've long been a fan of niche-type events (hello, firkfest!) but this sets the bar pretty high. I'd guess 95% of the people here are dressed up! It was classy, tasty and unique! I will be back! Thanks Firestone Walker and LA Beer Bloggers!
Disclosure: This was part of the LA Beer Bloggers Trip, FW paid for a bus full of press to attend a weekend of educational experiences. From the Barrel kicked off the weekend.