This post originally appeared on the website  West Coaster, a new Southern California beer magazine.
We were somewhere around the edge of wine country in Paso Robles when the craft beer began to take hold(1). Baked and dripping with sweat, I dump the remnants of my tasting plate on the ground and use it as a makeshift fan. The air is thick, hot and pointless, laying on us like a sleeping bag you can't escape. Black bugs have somehow managed to attach themselves to odd parts of my body and pinch every so often. "Holy Jesus! what are these goddamn bugs?"(2) One clings to my armpit as I smack it and smack it again, making it bite harder. "SHIT! Shitfucker!" I yell as spectators laugh wildly. I duck in the bathroom and dunk my head under the bathroom sink, then sling on my hat to grab a beer…the only cold thing in this dusty, arid place called Paso Robles.
Flash backward a few hours as this 'Firestone Walker Invitational Beer Festival starts and I'm in 'kid on Halloween' mode. Media check in and pre-fest starts early and I'm not taking any chances. It's peaceful. Nearby cows moo. It's time to drink.
Standing near
Russian River Brewing
I hear brewer/owner Vinnie Cilurzo say the words "five-day old Pliny and two-year old Temptation." These words fish-hook multiple members of the press. We walk like we're in a Broadway musical, jazz hands fluttering. A pretentious voice behind me mutters, "I've had two-day old Pliny once" while clearing his throat nervously. Five day old must taste like piss to this this guy. I toss it back, note the fresh Simcoe, Amarillo, Centennial and CTZ hops and move on quickly for a glass rinse and something dark before it gets too hot. The forecast is dialed in at 104 degrees.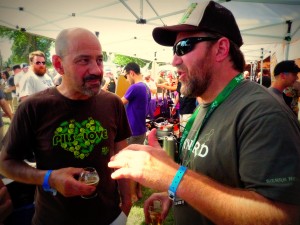 At this festival, beers like Pliny the Elder are 'just beers'. Not to discount the highly baited Double IPA from Santa Rosa, but there's some serious beverages to be consumed today. Brandy Barrel Aged Hunahpu's Imperial Stout from Cigar City (won the People's Choice award), Bourbon Barrel Aged Dark Lord Three Floyds Brewing and other barrel-aged treats that elude the west coast. Lambics, framboise and collaborations are being unleashed from Mikkeller, The Lost Abbey and Firestone Walker.  Orange County's sole contingent, The Bruery, is leaking several rarities on the crowd every hour. Tyler King, The Bruery's senior director of brewing operations  quotes, "It's an honor no matter where we're from, we love so many of these breweries and to pour beer next to them is pretty amazing."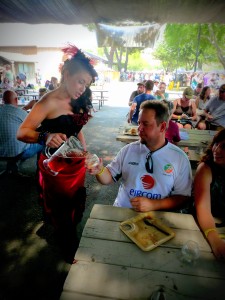 As much as the public loves this festival, brewers also gush at the prospect of getting an invite.  
Tony Yanow
of
Golden Road/Tony's Darts Away
quips, "We are a very young brewery and to present our beer along side our heroes is an honor."
Meg Gill,
also of Golden Road reminisces, "I cried in a department head meeting about it today…I have the fondest memories of pouring beer with Tony the last hour and fans gushing over our Berlinerweiss. It was the first festival I brought my parents to..their first beer fest ever."
Fascinated with the thought of sampling fresh beer from Europe, my associate Daniel Fernandez and I make a trip to the fest's 'little Germany'. "I had no idea Germans were so tall" says Daniel with his sub-sombrero sized hat. The guys at Mahr's Brau Bamburg put David Hasselhoff to shame, and the girl at BraufactuM is at least three inches taller than me in flats. Birrificio Italiano sent Tipo Pils, a beer that inspired Firestone Walker's brewmaster Matt Brynaldson to brew Pivo Pils which should be arriving in the southland soon.
Of the many, many beers sampled, three are standouts:
Mikkeller's Spotancherry Lambic gives me repeatable goosebumps. Juicy tart cherries burst in my mouth with the tiniest sip.Tastes like fresh tart cherry pie.
Lagunitas is shocked to hear my love for Sonoma County Sour Stout. "It's pretty shocking considering we aimed to break every rule when making it…a stout on a hot day that goes down easy? Shocking!" says the biker-looking guy pouring. Layered flavors and aromas hit me, then hit me in waves with each sip. Tart roastyness, oak, tart fruit, some pleasant funk. The sign aimed to debunk it's tastiness, only made me want it more.
The Lost Abbey's Framboise de Amorosa is also among my standouts. Very bright and clean raspberry tart without any metallic notes. Finishes dry with tons of flavor. Shocker, I know.
Food
 at the festival is dotted potluck-style amongst breweries. 25 local restaurants brought small-plate tastes to serve throughout the day. I really enjoyed the Bloody Mary Granita from Luna Red and Ancho Duck & Cheese Quesadilla from McPhee's Grill. Near the end, most food was gone.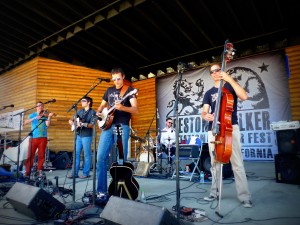 The Music from Hot Buttered Rum fit the mood of the festival – hyperactive progressive bluegrass is something I could very well be a fan of without  knowing it. The White Buffalo also performed later in the day but I was blissfully altered by craft beer at that point in time (see top paragraph).
The Gripes 
– None! If you go to one festival a year in California, this is it. It's like a GABF greatest hits mixtape in a small venue with really good food and music. This is the gold standard of beer festivals! Despite the hot temps, there was no problem finding shade, misters, water or an NFL sideline cooler.