"Tonight is going to be like a race," says the gruff and unshaven executive chef Cody Storts in his home away from home, Grits Fullerton. Six courses set out before us: pork, seafood, game, seafood, beef, then dessert. Having been to four of chef's beer dinners, I mentally prepare myself to form my lips into the shape of Noah's arc, and eat all the tasty animals.
Being Grits' third beer dinner, this is the first with hyper-local O.C. beer: The Bruery, and as far as I know, the first beer dinner led by a Master Cicerone, Patrick Rue. Having had most of the beers, the mere thought of the pairings has me salivating. If I had a tail, it would surely be wagging wildly, enough to knock various glassware off the tables, Pavlov-style.
Not being the biggest pork belly fan, I will say Grits preparation I actually enjoy. There's something about how they get a perfect crust, bursting with umami, to play with the fat inside. It all comes down to balance, and chef totally nails it. Confession, one of my fave wine-blended beers, matches the dish with carbonation and acidity. The tone set, we move on.
Course 2: Sourrento Mussels – A beer that debuted at the second Firkfest, Sourrento is a sour ale inspired by the lemon flavored spirit, Limoncello. The broth on this dish has a nice rauchy-bacon quality, "I want a glass of it," says my table-mate Anne Marie of OCWeekly fame. The black mussel is plump and ready, topped with 70's chili-thread bush. Backed by the beer, this course made a nice intermezzo. 
Course 3: Bambi with Duck-Roids.
(Paired with Batch #1731, a homebrew competition winner is a 100% brettanomyces-fermented hoppy session ale at 5%.) "If rare venison doesn't sound good, go over to Philly's Best next door," quips chef. It was indeed rare, but the duck fat seemed to tame the game, so to speak. The real winner of the night is the rye bread pudding topped on apricot key lime bourbon glaze. Nice rye-spicey take on a classic.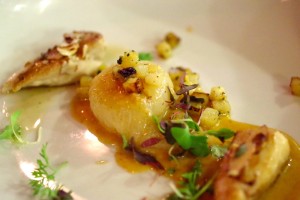 COURSE 4: Oh SHIT.
So Happens It's Tuesday – A slightly-less intense incarnation of Black Tuesday paired with Escolar almandine, a fish that can have laxative qualities if eaten in excess. I eat half, just to make sure we don't have any accidents.
COURSE 5 – The Meat Statue – I'm not sure where one gets a steamship round cut of beef these days, but I'll be damned if it doesn't look like a statue. "Nobody does this shit," I say out loud while snapping a photo. Coming back to my seat and finding a full 'fuck off' pour of 19.5% beer had me instagramming like a school girl. Sadly, I was full, but managed to eat a few fork-loads of the beef and root veggies. Wineification III, a blend of grenache grapes from Rodney's Vineyard and Black Tuesday. Matured in a combination of bourbon and French Oak barrels, this beer is liquid dessert.
Dessert Means You Survived: Blackberry cheesecake, Thai basil, bourbon sweetened currants and sweetened cream sauce paired with Cinnamonk was actually the best pairing of the night. But, wow. Full.
A shot of Bourbon is dealt in coffee mugs, we toast, inhale and hold our bellies. Cheers to another great party atmosphere, great hosts and solid, smiley service. Grits is located in downtown Fullerton and is open for brunch, pub dinner service on the weekends, and don't miss their half-off draft beer on Thursdays!