With SAVOR behind us, let's rewind to an unexpected pairing at the Farm to Table Pavilion inside the Great American Beer Festival – or – I can't believe I typed 1700 words about what?
Within three hours of flying into Denver for the Great American Beer Festival, I witnessed someone nearly choke to death. "Don't fucking give him the heimlich! He's taking in air!" yells travel buddy/media compadre John Holzer at the bar. The hostess speed dials 9-1-1 as the poor bastard horks air, bent over like a jackknife. His buddy, jaw agape, starts lumberjack-pounding him on the back. "He's choking worse than John Elway in the 1990 Super Bowl," I say while looking around…wondering if I'd effectively trolled any locals.
Holding his curly hair under the bar, 'Choke-man' makes one last gasp as his buddy jabs at his back. He must have found the secret eject button, as a distinct splatter-noise on the ground preceded the sound of his lungs filling with air all at once.
The restaurant, now completely standing while watching, sighs and sits like they witnessed a healing at church.
"I'm okay…water just went down the wrong pipe," Choke-man says, stroking moisture down his beard, purple-faced, dripping with sweat and embarrassment. His buddy plops down a fifty at the bar and they both leave in a hurry. "Thankfully I didn't have to see a dude die right before GABF," I say to the bartender. "Indeed," she says, polishing a glass, nonchalantly, "who the hell chokes that bad on water?"
---
As with all great travel-stop traditions, I always stop in The Kitchen Denver for a lamb burger before the Great American Beer Festival. This practice started the year I sat next to Dave Chichura, the "HBIC" of Oskar Blues Brewery (now at Eddyline) at the time and split some littleneck clams over canned beers and fishing stories. The burger, dolloped with roasted red pepper relish and bitter greens, is a call to Denver, and more importantly, a great base to lay before drinking fifty-or-so 1oz beer samples in an afternoon.
The Kitchen Denver is sort of an odd duck with the beer crowd during GABF week. Nearby places like Freshcraft or Euclid Hall are packed to the gills with ninety-minute waits. At The Kitchen, there's always an open spot at the bar and the food/beer situation always warms my post-flight gullet. Their beer selection and proper glassware is always on point.
Back to the splatter at hand, my appetite has completely vanished. Good thing too. I scored a Farm to Table Pavilion ticket inside the GABF for tonight. Think for a second about the odds of getting a ticket to GABF that sells out in minutes, then nabbing an elusive Farm to Table ticket. It's a fest inside the fest, except filled with award winning beers paired with James Beard nominated chef-driven food. It's akin to finding the winning lottery numbers on Wonka's Golden Ticket, then winning free beer for life, naked.
I leave half of my lamb burger uneaten, carefully chug the rest of my Blind Pig and walk straight to the Colorado Convention Center a few minutes walk away for press credentials. Denver's gusty winds sweep me down the busy 16th street mall towards the giant blue bear on 14th and Stout.
This year, GABF's Farm to Table is going to be farm…to table…to hand….to mouth…to….uh…hotel bed, to early morning jog. Badge around neck, I speed walk past the sick kilted ducks blowing bagpipes to get my appetite back. The fest starts in fifteen minutes.
---
The Great American Beer Festival is exactly how it sounds. Four sessions of the event sold in a measly thirty-two minutes (in 2014); 48,000 tickets in all. 3,500 beers are poured from over 700 breweries. The Farm to Table event inside is host to 450 and costs an additional $140  per person – 14 tables in all.
Denver itself buzzes during GABF. With beer events from 8AM til 2AM daily, the festival can almost seem like a side-show. Some show up to the city and get crazy at the many walkable breweries, taprooms and brewpubs.
---
Just like a kid running to the lunch line in junior high, I'm the first guy at the Farm to Table Pavilion. A brief memory of raspberry coconut zingers and fruit punch-stained lips flashes through my head. I was totally that dork years ago. Crazy to see thirty years later I'm still that kid, now entrenched in the beer world doing the same shit, except now it's a tart Raspberry Berliner Weisse, or an earthy CoCoNut Porter.
I do have to admit, I'm a cynic when it comes to big food pairing taste events like this. Out of the fourteen tables set out today, I bet seven will be some kind mediocre slider with way too much bun. Four will be some kind of poké/wagyu/whatever on a partially stale chip. The rest? A plastic salsa cup with pork belly, short rib or some other wild game some hip new chef shot in the wild, cleaned and rubbed with grannies famous ten-spice blend. Bonus points if there's some duck confit, terrine, or foie. At basically $10 a table, anything is possible and I hope for the best.
In before the beer-soaked horde, it's fun to watch chefs putting the final touches on food prep. Beer bottles at each station are poking their necks out of buckets looking like refreshed kids at a public pool…perhaps saying, "hey guys, what's going on inside this GABF?". The hall smells vaguely like bacon amid the voluminous high ceilings. I circle the hall quickly and see where to drop anchor first, then chuckle as my statement quickly turns into a stupid pun.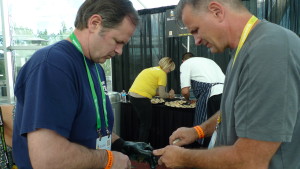 Two guys, possibly twin brothers in their forties unload a mesh bag of oysters on a bed of dark, moist seaweed right in front of me. I pause as they slice it open. The twin with the sideburns grabs an oyster from the pile, shucks it and slides it over to me on a cocktail napkin, grinning. Without saying a word, I sip the liquor off the top, tilt the shell back and chew it up…naked. My GOD. Do I whip out my phone to take a photo? Do I ask for another? What's the fucking protocol here, man? Who knew my first sip of liquor inside the GABF would be a dash of briny oyster juice.
The table sign reads, "Terrapin Rye Cubed Triple Rye IPA 10.7% ABV paired with Marin Miyagi Oysters on the Half Shell." I grin and nod, thinking the pairing is a joke. "Pairing contains shellfish," hahaha!
"A 10.7% Triple Rye IPA paired with oy-oysters?" I stu-stutter like my car is being towed. Terrapin's beer rep bats her lashes and grins, "I know, right?"
Is she implying that the pairing might possibly be terrible? Does she know it's crazy good? As I witnessed the bag opening, I assume she doesn't actually know…right?
I've had oysters with fresh Murphy's off the coast of County Cork, Ireland. I've had oysters with an old fashioned cocktail in Los Angeles. In Georgia where Terrapin Beer Company makes beer, do they prefer 125 IBU palate-wreckers to wash down delicate bivalves?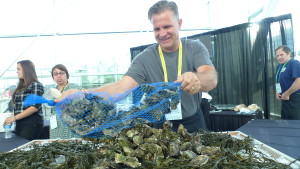 Tom Montgomery, one of the guys behind Monterrey Fish Market in San Francisco, turns the key and unlocks my second Miyagi shell, scooting it my way for another spin. I've always found that eating oysters is like kissing someone for the first time. With beer? It's like kissing someone for the first time while drinking beer, which makes it exponentially more titillating.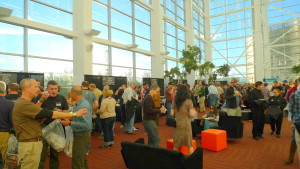 The first oyster a mere peck, my goal for number two is to get to second base. I lick my lips and bite the corner of my lower lip while lifting up the green marbled-patina shell, making eyes with it. Edging closer, I admire its plump-pearlescent body shining back at me, eyes now crossed as I sip the liquor off the top and swish it around my mouth. My salivary glands burst as I take the slightest sip of beer to chase: rye spice, sweet malts, juicy hops and salty oyster brine coat my mouth as I swallow…eyes rolling as I lick my teeth clean.
Making eye contact with the beer rep, I pour a little bit of her beer into the deep oyster shell and nod, replacing the brine now in my belly.
Flicking the raw beast around my mouth, I bite down, noting its firm body. The slick texture exudes a subtle melon-cucumber note with a slight metallic twang; similar to tasting a Moscow mule in a copper mug. Sea salt washes over my memory banks and causes a good three-second daydream of me duck-diving a wave while body surfing back home in Newport Beach. Before gulping it down, I add a sip of the triple rye IPA to the cement-mixer that is my mouth and pause with Denver's sunset suddenly blinding me outside the thirty foot tall glass windows. Wow, I can see the Rockies from here.
The silky spa like flavors implode into a super salty umami bomb. Chewing slowly, I swallow every last drop. My phone vibrates in my pocket. I don't bother.
"Spitters are quitters" I think to myself, tossing the shell in a trashcan and downing the rest of the beer. I exchange cards with Terrapin's beer rep. "I had my doubts, but goddamn that was memorable."
"I know, right?"
"What are the odds that two things fly from California to Denver, meet in a huge beer fest and one eats the other?" I ask, innocently trying to keep the conversation going.
"I'm not from California," she says.
I choke-cough and move on to the other thirteen tables, then step out into the main festival, joining 11,999 of my closest friends. Damn. GABF is awesome. Farm to Table? Not to be missed.