Blogging about blogging is probably the dumbest snazziest thing I've ever done. Why would I attend a conference devoted to blogging about beer? Because you read this stuff, that's why. Get up and grab a towel because a healthy dose of amaze-juice is about to be doused all over your computer/phone screen (ewww).
<cracks knuckles> Going back to 2011 when I started this dumb awesome website, I wrote silly stuff about beer with no fucks given. When I saw there was an actual conference for like-minded people, I registered and went. My mind was blown. After BBC12, I networked, set goals and promised myself to still write with no fucks given (for this site at least). I also travelled to Boston for BBC13. Since that conference a year ago, here's some crazy shit I did that was pretty awesome:
I don't think I would have done any of that had it not been for the Beer Blogger's Conference. By going, it helped me understand that anything is possible. So here I am, typing on my couch with my cat curled up next to me in the wee hours of the night, thinking back on BBC14, with some fucks given. Here's a brief look at some photos and fun stuff we did. It really was a blast and can't wait for next year in Asheville, NC. Highlights:
Stop 1: Golden Road previewed here. 
Stop 2: Taking the freight elevator to Angel City Brewery's roof, only to be greeted by hop vines and a spectacular LA Sunset. My beercamp 94 brew-bro Keith McEly manages the tasting room there, which is rad. Their IPA, Angelino was fun on cask (dubbed Dirty Angelino) as was their Avocado beer, which tasted like a pils with a slick mouthfeel.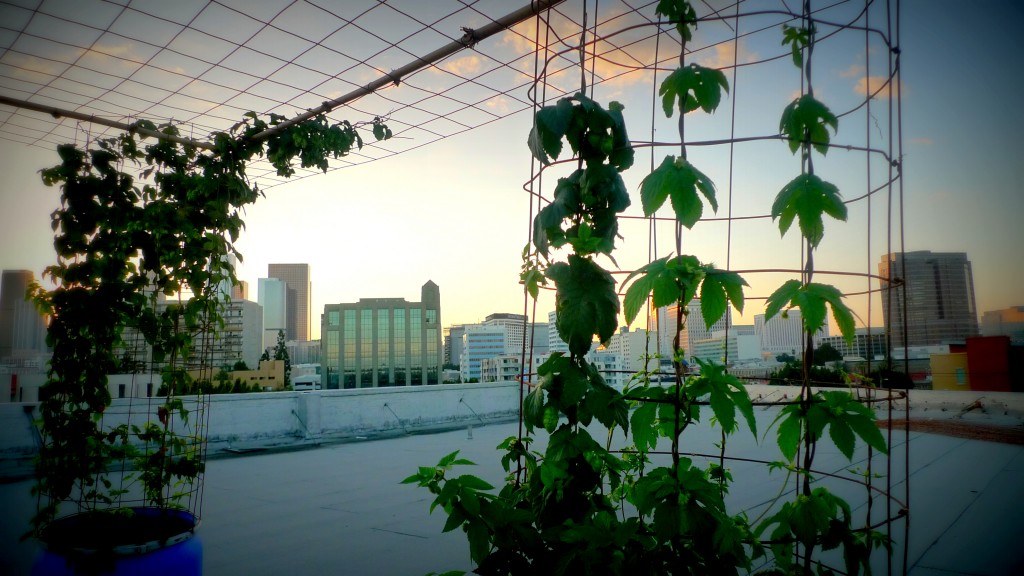 Stop 3: Bruery Terreux. Lets just say I got a mouthpour from a Sour in the Rye barrel; squirted in my mouth like a cat on a farm while the cow is getting milked. It tasted like Pinocchio's pee; slightly woody and acidic, yet still somehow delicious. The Bruery is classy as fuck, putting out a table of all the cheeses and charcuteries with all the super rare beers. I went nuts on the Oude Tart w/ Cherries, stopping mid-sip to order my maximum allocation via the Reserve Society.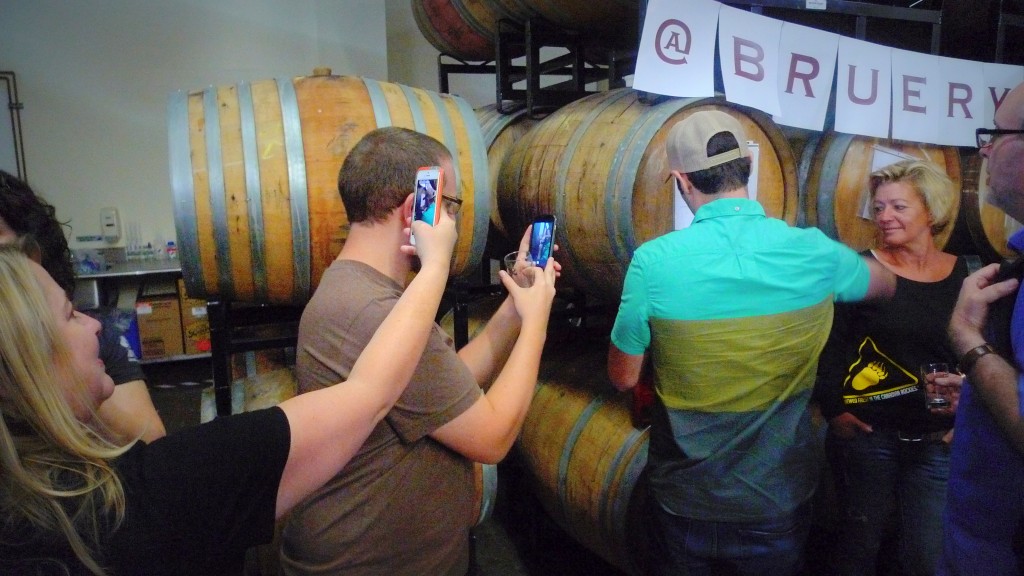 Stop 3 and 4: Smog City and Monkish Brewing in Torrance. Arriving at 11 PM or so, someone quipped, "Smog City is like the Motel 6 of breweries, they'll leave the light on." Indeed. One car in the parking lot and the lights on inside, 45 bloggers were treated to Smog City's Coffee Porter and other delicious treats. From there we walked a few minutes to Monkish Brewing and was treated to even more awesomness. If you haven't been to these breweries, make plans to go this weekend. Both are doing some really great beer.
Friday morning, the actual conference started with a keynote from Julia Herz of the Brewers Association. The first panel of "San Diego Craft Brewers" couldn't have been better! From left to right is Tomme Arthur, Chuck Silva and Peter Zien, arguably three of the worlds top brewers and pioneers for craft beer.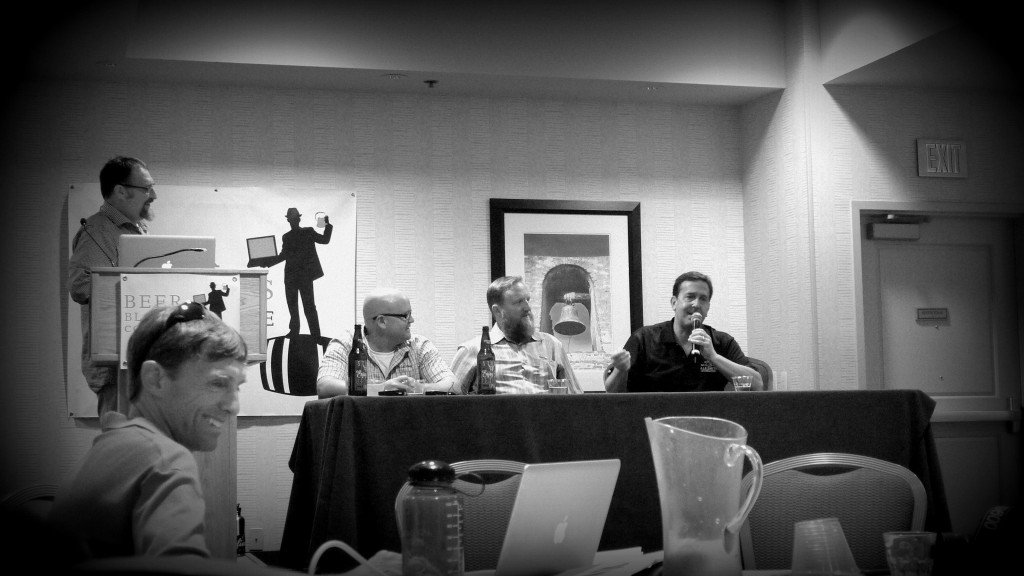 For dinner, we went to Karl Strauss' original brewery for street tacos and super fresh Tower 10, Red Trolley and Wreck Alley Stout. Every time I rediscover a Karl beer I'm more and more impressed. I think Karl Strauss is one of California's most underrated breweries.
Day two: Breakout Sessions. Shit got real when people read this quote from Modern Times' Jacob McKean. Being in a room of pros, nobody's feather's got ruffled. It was an informative panel and happy to hear this blog doing things the right way: legit as fuck.
We ate at Yard House for lunch and got a slathering of various food bites. I had to beg some guy to get a half yard of Firestone Walker Easy Jack with all of my drink tickets. Most out of towners picked The Bruery's Oude Tart instead of the hundred taps of San Diego beer which was awesome. Their house beers were a thing as well, the Belgo Tripel being my favorite of the bunch.
We picked up Ken Grossman along the way. He gave the keynote speech; highlighting their summer Beer Camp tour and new brewery in NC. I could listen to him speak all day. He was cool enough to sign my Beyond the Pale book and my last bottle of beercamp 94. I want to try and get all the brewers to sign it at some point.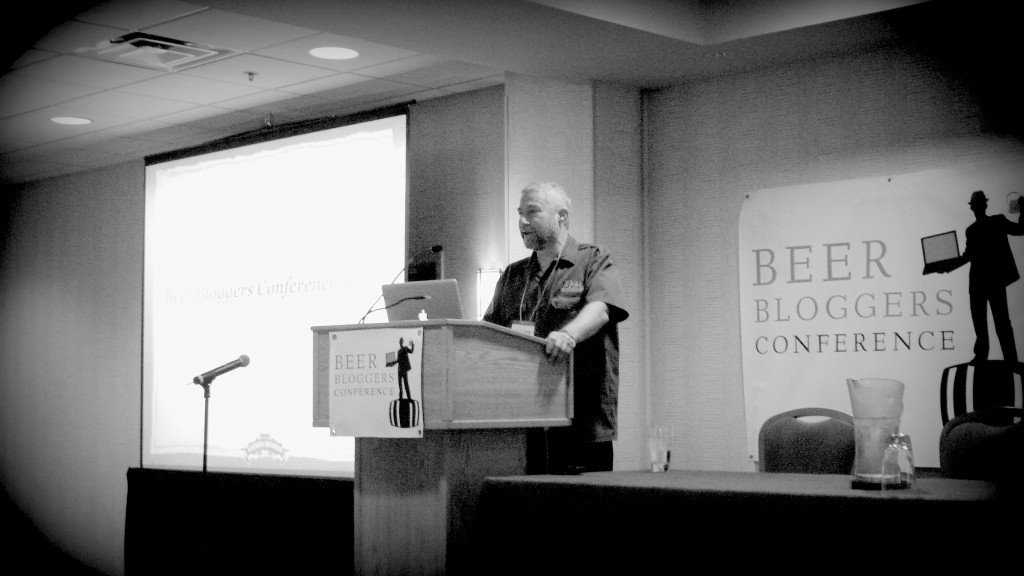 Beer Speed Dating is a thing at the Beer Bloggers Conference. Brewers have five minutes per table to sell their wares. Highlights were Kosmic Mother Funk Grand Cru from Samuel Adams and Deliverance from the Lost Abbey. Rogue brought a Pepto Bismol Braggot, which aided everyone's hangovers .
Meanwhile, at Stone Brewing World Gardens & Bistro – Liberty Station: More small bites and super delicious beer was served. I chatted with Head Brewer Mitch Steele while inhaling fried olives, ribs and various flatbreads. Not only did the BBC get treated to a special roped off area, we also had dibs on guest taps. I drank a Black Wit. I had a Board Meeting from Port Brewing. I had fresh Ruination. I also got a private tour of the "hot-chicks room" above the dining area. Wooden abbey-doors open up to this view:
Various bottles in the 'hot chicks room'.
Photo roll!