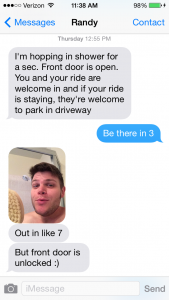 Glendale, 1:02 PM in the home of Randy Clemens (blog sponsor —->)
A dripping wet Randy "Sir Racha" Clemens is probably the best way to kick off the 2014's Beer Blogger's Conference. "Here, try one of these and shoot the other", he says handing me a small plastic foil-topped cup reading "K+ probiotic drink" and a glass of (fully legal) B-Vitamin dietary supplement. "Do I get a colonic too? You fucking LA dudes are hippies," I reply, swinging my Pabst-glasses to the top of my head and swallowing it all down in one nervous gulp.
"I find it ironic we're doing shots of health food made with lactobacillus and a fermentation process similar to beer." I say, burping loudly. "Can I get you a beer Mr. Nagel?" "Nah, I'm waiting to see if these shots explode my butt."
The conference pre-excursion that kicks off at Golden Road is a short walk from Casa de Clemens, but my baggage has 'UBER' written all over it. Just on the other side of the train tracks, we arrive at a packed 'Pub at Golden Road'; many people dining al fresco under the blue summer sky. Beer happens quickly as two cold 329 Lagers arrive frothy, yet head-scraped. I admire its clarity, take two whiffs and get my mustache frothed. This beer is effortless to drink, lightly floral with a wisp of grass and LA sunshine.
I order the messiest BBQ Chicken sandwich ever and a new beer called Carry On – Citrus Ale; a beer made and sold for Airport terminals. The bitterness seems surprisingly arrogant and the orange flavor brings me back to my childhood when I actually enjoyed Flintstone Vitamins. "Is this infused with Airborne®? That would actually be quite handy pre-flight," I mutter while using every napkin on the table to clean my sauce-covered digits. I seriously look like I bathed in a vat of BBQ sauce. Thankfully LA has no bears.
After lunch, I identify the first blogger speed-walking up the ramp to the pub. A busload of beer bloggers is possibly the easiest thing in the world to observe in their natural habitat. Their plumage includes cargo shorts, brewery shirts, glowing smiles and cameras held up past their heads as they snap photos of whatever. Someone should compile all of the bloggers shots and make a David Hockney-style photo mosaic. I greet a few familiar faces and join the gang on the side patio near the defunct Aunt Sally court; taken down thanks to subsequent baby seal clubbings, or perhaps bad parenting.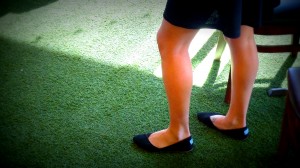 Co-owner/President of Golden Road Meg Gill steps out to greet the gang with her curly blonde hair pulled back, snappy black dress and flats. "Welcome to Los Angeles! We're really excited to have you guys come from all over the county to be here!" she says as I sip beer three: Berliner Weisse with raspberry syrup. After the speech, I chat with Meg and compliment her dress. "Thanks, it's easy," she says, blinking her deep grey-blue eyes grinning a surfer-girl smile. "We've got a new beer on the canning line right now I'm excited for you to try, it's our new seasonal India Pale Lager called Might As Well IPL," she says smiling bigger, batting lashes a few more times. I opt for the first tour while the other half works through a tasting flight of the core beers, 329 Lager, Hef, Get Up Offa That Brown and Point the Way IPA.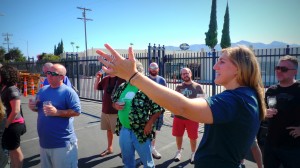 The tour starts off in Chloe's, a clean yet divey-type speakeasy in back of the pub. "Is this where Boogie Nights was filmed?" I ask. "This is the pub, behind the pub, behind the pub," someone replies in their best Vince Vaughn voice. Laurel Brooks, coolest chick ever (and Marketing Coordinator), smiles and takes the group through the history of how Meg met Tony Yanow, owner of several LA beer bars including Tony's Darts Away; a pub serving only California-brewed craft beer and many vegan delights.
Golden Road has three brightly colored buildings; yellow, red and blue. Yellow is where you eat, drink and pee, red is for the office-types and cold storage, blue is where the sausage is made. I spy several interesting things in the cold box, one of which nobody can comment on, even though it's been printed in the LA Times.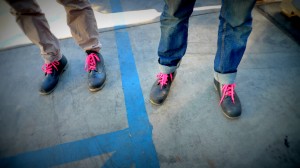 The brewery has changed vastly since my last visit only five months ago. The first thing I notice is the pilot brewhouse sitting deconstructed outside between buildings. "If anyone knows someone looking for a 15 bbl brewhouse, let us know!" says Laurel. Outside we're greeted by brewer Tim Harbage, recent recipient of the Matt Courtright Memorial Brewing Scholarship. Pink laces flopping about on his brew-boots, Tim escorts us in past a 200 bbl fermenter named Phil as the smell of beer being brewed fills the nearly Yuma-hot air on the brewdeck.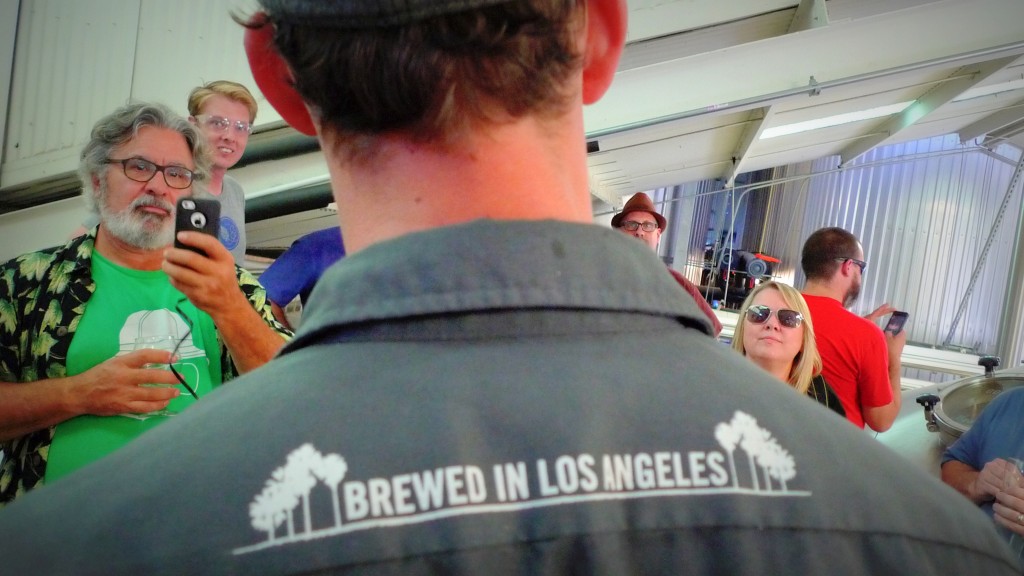 The new canning line is the pièce de résistance. Before: one can at a time was filled, sealed and hand-packaged. Now: a modern canning line zooms through a pallet of cans in minutes. As production is up from 15,000 to an expected 30,000 barrels this year, it's only a matter of time until this new system will need a friend.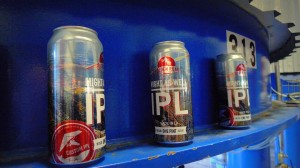 Taking a can of the new IPL off the line had me singing the theme to Laverne & Shirley, and the ultra bright hoppyness of the beer had me sniffing the can-hole like a weirdo. With all the beers we are about to embark on throughout the day, one more surely won't hurt. "Should I drink the whole thing?" Might as well, motherfucker…Might as well.
Thanks for the hospitality, hugs and awesome beer, Golden Road. See you soon.
————
This post is part of Greg Nagel's Beer Blogger Conference coverage. Check back for more posts! #bbc14