"When people ask if we're coming to L.A., we say no way, we're coming to Azusa because it's got everything from A to Z in the USA!" says Ron Lindenbusch, Lagunitas director of marketing to our group of media and city officials. And by everything, I assume he means land at the foothills of the San Gabriel mountains that spew mineral-rich brewing water. "We also want to reach out and touch the community, not like to deetle-deetle them," he continued, making a ball-tickling hand gesture.
I was in a small group that got to "sneaky peek" the freshly-finished construction site (one day before 4/20) and holy hell, the campus is big enough to fill Seaworld's tanks with beer on a daily basis. Shamu? More like a drunken SHAMWOW. Here's some stats on the behemoth brewhouse:
Three 250 BBL Brewhouses with a Centrifuge for each
Ninety 55-foot Fermenters
Twelve Big Ass Brite Tanks
Community room, Amphitheater, Taproom, Rooftop Bar, etc, etc, etc
Cans are coming too…
Tony Magee was absent from the festivities. When asked, "he's probably playing with his band tonight somewhere around Chicago," said his sister and director of communications, Karen Hamilton with a smile.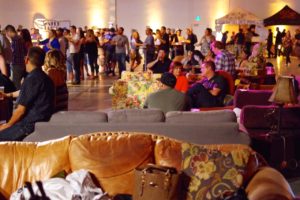 The super-sneaky peek complete, we left the vast packaging hall and headed to the shipping and distribution warehouse to party. Apparently the industry-only event link got out, so it was a little more crowded than anticipated. What would have been a chill couch-trip over beers ended up being a revolving trip in line for beer. As the evening went on, roller derby happened next to live bluegrass. Still fun, but my goal of networking and interviewing was left (mostly) undone. At least I got pics!