New years day 2014, I sat with my laptop open pondering predictions for the year. Will this be the year of session IPA? Will Jennifer Lawrence and Kate Upton's iCloud get hacked showing the world their nude bodies? I came up empty and searched the internet for "Nostradamus beer". I was shocked to see this bold prediction in one of his secret books.
In the year of 2014, as the Blue Moon fades,

restaurants will have good beer where good food is made.
I'm pretty sure what the Nostradamus is trying to predict high-end eateries will finally get a decent beer list. By years end, a restaurant with an A+ chef and A+ wine list will no longer be in F- beer territory.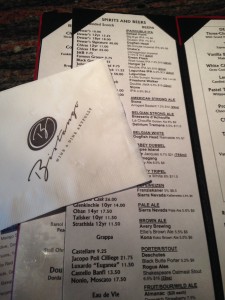 I recently got a taste of this bold prediction in Irvine of all places at a posh place near John Wayne Airport called Bistango. Modern art fills their walls at every angle, twinkle-lights wrap the patio palm trees and relaxing jazz sets the mood. Among many happy-hour bound professionals, the thing I was most interested in was a proper beverage to accompany my food. Without taps, I thought the choices would be the usual macro lager or super-sweet Wit beer. When opening the drink menu, I was pretty shocked to see a lengthy beer list.
The menu seems to be very well thought out. Although missing are some stellar Orange County made beers, the list seems to have been formed by researching beer review websites. Going down the selections, all the beers featured are 90+ on beer advocate. IPA's, Double IPA's, Belgian beers, Wheat beers, Stouts and even wild/fruit beers round out the fifty or so beers included. All are priced appropriately.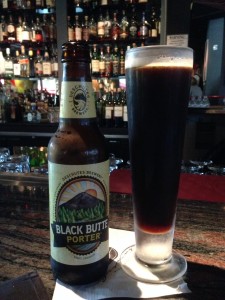 I asked my server what beer I should get with the daily special, a seafood Paella, he hesitated and said, "Porter." Wise man! Bistango's Paella was full of sweet clams, perfectly steamed mussels, plump scallops, snappy shrimp on top of a spicy bed of rice drowning in deliciousness. Deschutes Black Butte Porter would get the nod for the pairing as the rich roastyness of the beer calmed the heat and enhanced the delicate flavor of the seafood. Their bar/happy hour menu is tapas heavy, making a beer and bite an excellent choice pre-flight or perhaps to miss a bit of traffic. The rest of the menu is very well rounded if you're in the mood for big bites.
One gripe: getting a frosty glass is not how one should roll with craft beer; ask your server for a room temp glass as many of the flavors and aromas of beer don't open up until 54 degrees for some styles. I can only hope that the "frosty mug of ice cold beer" stigma will die with Nostradamus' 2015 prediction.
Got a great $$$ or $$$$ restaurant that now serves craft beer? Give me a shoutout below or on twitter at @OCBeerBlog. Cheers!
Images credit Bistango Website.