Stone Brewing Co. Ruination 10th Anniversary IPA Review and Release Notes
Road-raging home after dodging a big-rig fender-bender with the venus-crossed sun in my eyes, finding a box on the front porch from Stone Brewing Company instantly snaps me back to a great mood. "I will not be stabbing a hobo today" I think to myself as I pull out a boning knife to open the box. I'm hoping there's beer inside and not, say, a severed head ala the movie Se7en with Brad Pitt and Morgan Freeman.
I put the bottle in the freezer, set the chicken timer at 30 minutes, then crack this hoppy hell demon.
On the crack, a moist "PSSSSST" sneaks out like a genie from a lamp. I quickly shove my nose in and whiff a hop farm in the tiny two inch headspace.
In the glass, this beer shows gorgeous crystal clear copper with a tinge of white foam that briefly clings to the perimeter. As the malt bill is Pale 2-Row and Crystal 15, I assumed it would be golden. Perhaps filtered lupulin oil gives a red tint? On the nose, a mushroom cloud of Centennial hops hit my sinus cavity like a backdraft from hell and puts me in a daze. This is getting serious.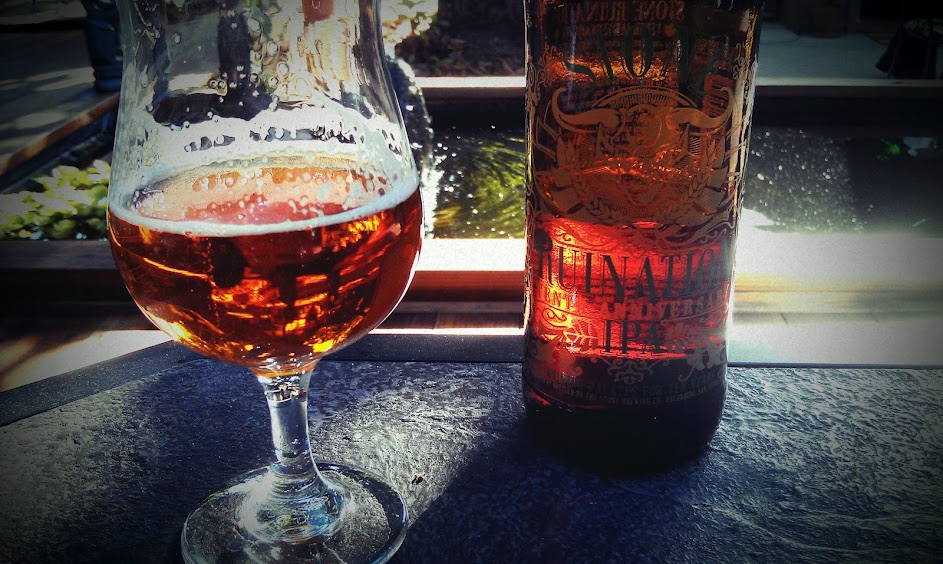 From the Stone Blog:
"…an amped-up version of Stone Ruination IPA, with a bit more malt to bring the abv up from 7.7% to 10.8%, and a very heavy dose of hops. "Classic" Ruination uses 2.5 pounds of hops per barrel–which is more than double the amount we use in any other of our core beers–but for Stone Ruination Tenth Anniversary IPA, we went double again, using an impressive 5 pounds of hops per barrel, including about a pound each of Citra and Centennial in the dry hop. (Hell. Yes.)"
This beer showcases Centennial hops with wafts of over-ripe sweet juicy grapefruit. Imagine a box of grapefruit in a Turkish prison. No? How about a box of grapefruit in a college dorm? Nah. Box of grapefruit near the ocean after a rain? I'll go with that. There's a bit of dank earthyness that hides out among the fruityness. I would highly recommend putting a bag over your glass, then huffing this beer's aroma until you pass out. Searching for Citra Hops on the nose I come up empty, thankfully, as Citra is one of those hops my nose categorizes as 'cat urine'.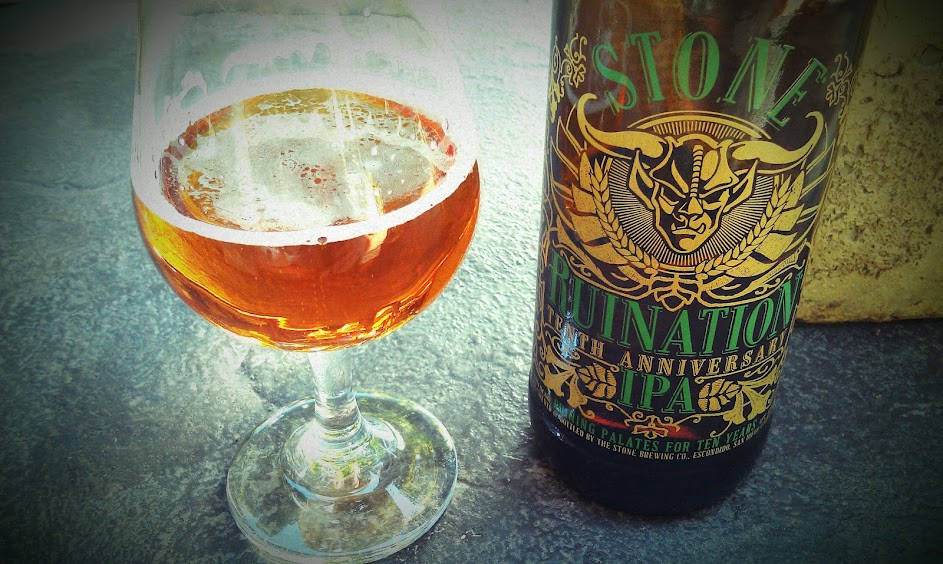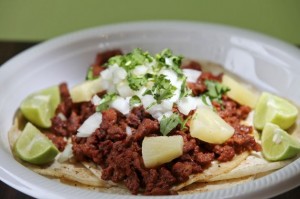 My first sip freaks me out. This Sub-tropical hop sipper starts out sweet and fruity, followed by a lingering pepper spiced hop bitterness. It's like french kissing a hell demon after it ate a hop plant. (Those naughty, naughty hell demons!) The mouthfeel is very Stone-like but chased with a sweet-hot alcohol which keeps the bitter hanging out. As I continue to drink, I start to crave street tacos al pastor with onions, cilantro and a dash of lime topped the hottest salsa available. Fresh tortilla chips with a mango habanero pineapple salsa are also calling my name as a pairing.
Remembering my first sip of a Stone beer (IPA), there's a certain 'Stoney' flavor profile that exudes and this beer is no different. As super-hopped beers are commonplace in this era, it's refreshing to be reminded of what started it all just a decade ago. Stone Brewing Co. makes a strong statement and leapfrogs the vast landscape with this release. I tip my hat to Mitch, Greg, Steve and the entire Stone Brewing family for their efforts. If the twenty year release isn't 20% ABV and ten pounds of hops per barrel, I'll be pissed.
Cheers!
Additional Info:
Stats: 10.8% abv, 110 IBUs
Availability: Limited 22oz bottles & draft. One-time release, beginning June 11th
Distribution: AZ, CA, CO, CT, DE, FL, GA, ID, IL, IN, KY, LA, MA, MD, ME, MI, MN, MO, MT, NC, NJ, NM, NV, NY, OH, OR, PA, RI, SC, TN, TX, VA, VT, WA
Malt bill: Crystal 15, Pale Malt
Hops bill: Columbus and Centennial. Dry hopped with Citra and Centennial.
San Diego Launch Event
Stone Ruination Tenth Anniversary IPA Party at Henry's Pub
Sunday, June 10, 5-10pm | 618 5th Ave, San Diego
We return to the first SD bar to ever pour Stone Ruination IPA, throwing an awesome birthday celebration filled with brews, food, music, and a lot more! On deck are guest appearances by Stone CEO & Co-Founder Greg Koch and Brewmaster Mitch Steele, five taps with special versions of Stone IPA and Stone Ruination IPA, food pairings with dishes created just for this momentous occasion, plus limited-run Stone Ruination Tenth Anniversary IPA glasses and T-shirts on sale. Full details.
Media Sample provided by Stone Brewing Co.
 Additional Pics: