A blog post about a beer you will most likely purchase and consume is pointless. Instead of boring you with yet another beer review, I think an anniversary is great time to reflect on a brewery, its accomplishments and how they have grown.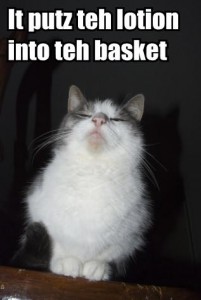 WHOA, Hold on a second there mister…this beer has lemon verbena in it? I never thought I would see ingredients commonly found in my wife's Bath & Body Works lotion in a beer. After a recent ball surgery, I used that lotion to assist with determining my ball swimmer count.  The "Complete Aromatherapy Handbook," likens the scent of Lemon Verbena to "morning, when everything seems fresh, new and promising." Exactly what I want my genitals to smell like!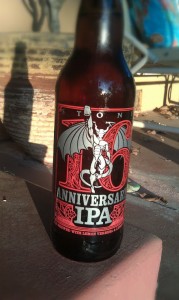 The sun sets as I crack my Stone 16th Anniversary IPA for a tasting. Another balmy 95 degree day comes to a close…not a minute too soon. The fountain outside gurgles and drips. The fire pit crackles and roars as I stare in a daze. While pouring this beer I feel the same nervous excitement when I cracked my first Arrogant Bastard Ale. Thoughts of "How buzzed will I be after drinking this?" and "what if I'm not worthy?" dance around my head. 10% beers drunk alone sometimes push my boundaries.
On the pour, a deep gold molten core is topped with a swiss-cheese cratered moon crust of head. I swirl it and sniff. My eyes pop…Stone has done it again! This time letting some herbs ride shotgun over my palate's proverbial State Line. Mud flaps are flappin', truckloads of malt and hops CB each other in a convoy down to my belly. 10-4 good buddy! Notes of clover honey, lemon verbena and salvia on the nose. My first sip is herbal sweet and spicy clover honey, citrus zest, followed by a low scoville hop heat. Salt and pepper even make a cameo appearance; perhaps Rye malt? Interesting. Balanced. Delicious.
I get the feeling the addition of Stone Farms will continue to play a part in the "Farm to Kettle" movement as seen with Saison du BUFF and GK and LU's Mixtape beer seen around town. Bottom line, this is still a Stone beer with much of the same mouthfeel and bitterness characteristics fans should expect. At 10%, there's some heat; somewhere around what the Stone Ruination 10 Year Anniversary beer has. As the temp rises, this beer does not fare well. Split a bottle with friends or keep in the fridge between pours.
Overall, I set out to do a reflection post on Stone Brewing Company but was derailed by a nice imperial herb IPA. Reflections are only good when someone's dead right? Pick up a bottle, and if you don't already have tickets to the huge Anniversary Bash on August 18th, I suggest you do so quickly, like NOW.