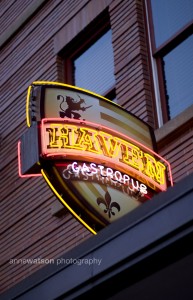 Update, as of 2014, Haven no longer brews.
It's 5:00 P.M. on a balmy Monday night, nerves shot from an emotional day sending my kid to Kindergarten. At Haven Gastropub in Orange, I bet brewmaster Dave Larsen is having the same feelings. Debuting his beers for the first time in his native Orange, I'm sure It feels like an artist's first show or the first time a stripper shows her junk on stage. Making the jump from a homebrewer/sou chef at Haven to brewmaster is astonishing. Tapping ten beers in five months is equally ambitious! Although the beer isn't brewed in OC, this event is essentially the welcoming of yet another craft brewer to our growing list in Orange County. Are the beers good? We shall see. (Pretty photos courtesy of blog collaborator Anne Watson Photography www.annewatsonphoto.com)
I pull in a bit early, drop anchor on a stool and snap a few shots. At the stroke of six, Haven's front door looks like the tube of an arriving flight. A constant flow of people attack the tables and bar area like an army of well dressed ants. My goal for the evening? Sample every beer and have fun! Sampling every beer is not an easy task given brewmaster Dave Larsen's average ABV with ten beers is 8%.
Along with ten Haven beers, the special 3rd Anniversary menu is an ode to Haven Gastropub and spinoffs.  Taco Asylum, Burger Haven and special gatropubish offerings are layed out in a proper celebratory fashion. The thing I'm most excited about are menu items in the $5-10 range for small plate foods. I would love to see more of these items in regular rotation! Thirstier than a beerblogger at a bar, I get hit with a paddle of Gross National Happyness (cream ale), Hafen Hef, upRYEsing (rye IPA) and Diana Brown with a side of Taco Asylum Wild Mushroom Taco. My flip flops rhythmically clap my heels to the beat of Fiona Apple's 'Fast As You Can' playing obliviously over the heads of this full house.
The last time I saw Haven this busy was a month after they opened! The tiny alcove window seats are sealed thick with bodies chomping at the bit for a beer. Jeremy the bartender scans the bar left and right like he's watching a tennis match with two Russian gals playing. Dave Larsen stands nervously near the bar, scratching his red beard, like he's about to be married. Lets get down to business!
Diving into the flight:
GNH Cream Ale is a light and herbal beer with low bitterness and a dry finish. Notes of sage, honey and spearmint ring the nose. I'd recommend this for someone that doesn't like dark beer or the bitterness of an IPA. Fun fact: It's brewed with some special heirloom red rice. Bitches love heirloom red rice.
Hafen Hef is just that, a traditional Bafarian Hefeweizen. It has some nice bubble gum flafor up front, yet mild banana and clofe. [Geek note – Drinking a hef in a 4oz taster on draft is not ideal. Most of my excitement drinking a trad Hef is how pretty it looks when poured in proper glassware. The bright golden-orange beer topped with a frothy meringue-like head is a necessity!] Bottom line: If you like Hef's you'll like Hafen's version. It is heafenly. Skip the lemon, you heathen. (v's replaced with f's on purpose you feluptuous fagina fulture.)
* Fave of the evening! upRYEsing – I loves me some rye malt all up in my beers! Up front this is still a hoppy IPA with some juicy grapefruit and tropical notes chased with a slick pepper spice on the finish. It goes perfectly with my Wild Mushroom Taco! Each bite and sip found heat in the taco and complements the huge umami/parsley/garbonzo flavors going on. If Taco Asylum carries upRYEsing, I highly recommend this pairing. I can only imagine how the Ghost Chili Pork taco would fare with this beer. I'm salivating and clenching thinking about it.
Diana Brown – Sadly, my flight was mis-poured and I didn't get a chance to sample this beer.  I got two Hef's on my paddle. Dammit.
On to bigger and better things, I sample the oaked and non-oaked versions of Bremasters Breakfast Oatmeal Stout. Whoa there cowboy! This is a monster! Wait… what? This is damn near Old Rasputin Imperial Stout! An Oatmeal Stout shouldn't be this big, bold, dry and boozy. When I think Oatmeal Stout, I think smooth, creamy roasty-roastyness!. I assume this is a mis-poured 100 Rubles, Haven's Russian Imperial Stout. The oaked version, assuming it is also the 100 Rubles on Oak, really mellows out the mouthfeel, adding in some pleasant oak tannins and booze while boosting the dark fruit notes.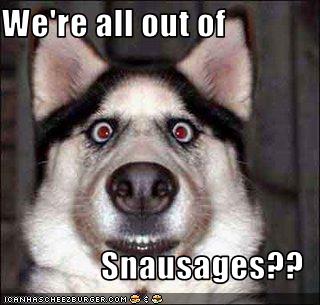 Sosigenes Double IPA is a huge hit with the crowd around me. The draft board is numbered and people order fast-food style. I overhear, "I'd like a number 6" many times. Haven's bartenders, despite standing next to the draft board force people to say the name, causing some pretty hilarious mispronunciations.  Winner of the night: "I'D LIKE A SNAUSAGES PLEASE!" Haha! I personally thought it was soh-sih-JUH-knees, but I heard Wil Dee (Haven's Bev Mgr) say it as soh-sih-jen-nis. Potato, Potato. It's a damn tasty DIPA with tons of hops sitting on an easy drinking malt backbone. Paired with the Taco Asylum Short Rib Taco doesn't do the taco any favors. The 'salsa verdi' in the taco is reminiscent of Italian salad dressing, perhaps a mis-douse? it was weird, although I still inhaled it.
Changing my luck, I grab a sure-fire pint of Hello World Pale Ale to cap off the evening. I lift anchor on my bar stool and chat with Dave for a bit. "I need a beer" he says wiping sweat off his brow. "This tastes exactly like my Organic Pale Ale homebrew, which I love" I say. We both stare awkwardly at Greer Wylder nearby. "Welp, have a good night!". "You too". I'm like the Ryan Seacrest of beer blog interviewers. I was going to ask about growler fills, kegs, bottles, what's coming up through the end of the year, why rice in a cream ale, what other fun adjuncts are you brewing with, is the moon made of swiss cheese, who trims your beard, etc. I drew a blank. Sorry readers!
Overall:
Despite the mis-steps, Haven is still Haven. She's like a beautiful girl that slightly annoys you from time to time, but you keep coming back because she's super hot, ready for action and delicious. I'd like to see some more session beers to round out the beer repertoire; a 3-4% English Bitter, Porter or Mild might be pub friendly. I'm still impressed with this initial public offering after five short months. If they keep it up, they will surely increase my gross national happiness!
Hours of operation are 11 a.m. – 2 a.m. daily. Walk-ins welcome. For more information, including address and phone number, visit http://www.havengastropub.com (on Facebook,http://www.facebook.com/HavenGastropub).