I'm not sure why, but the first things I do after checking in a hotel:
Open the Window
Check the drawer for a bible
Hose off
Wait for my wife to get ready in the hotel bar
First off, my window view from the 11th floor of the Sheraton: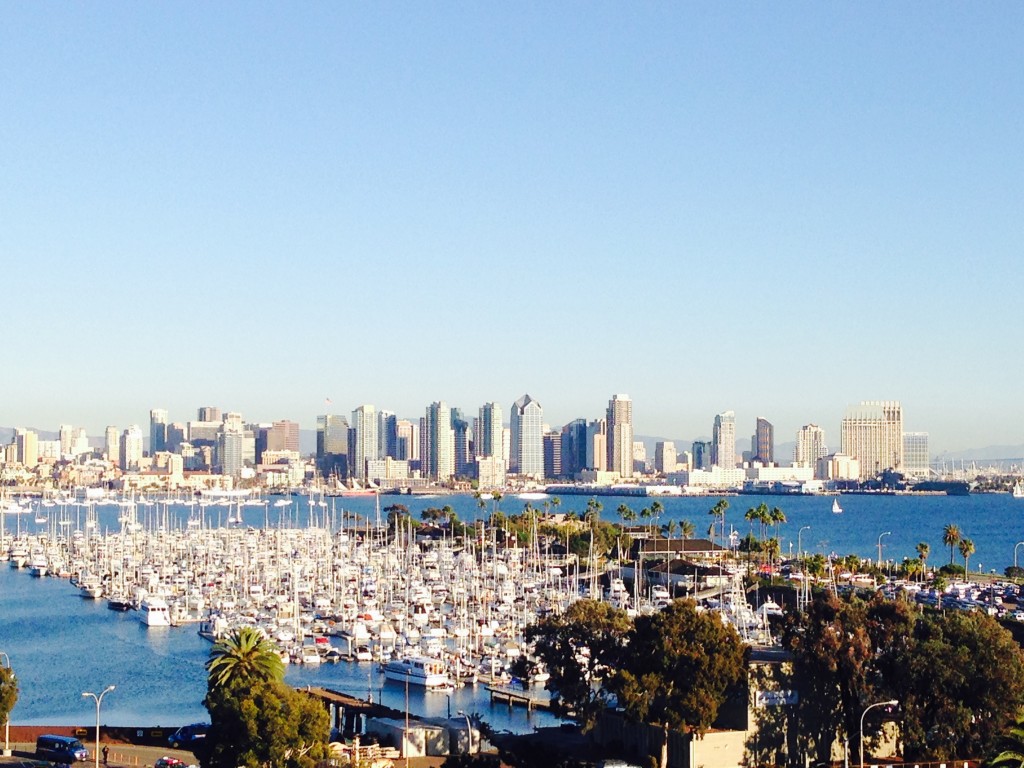 Then, the Sheraton bar beer menu:

Just when I thought the view couldn't get any better, I did the Patrick Stewart triple-take on the bar menu. Expecting the standard macros (which are there), I'm happy to get the pre-game started with my first taste of a Stone Brewing Liberty Station brewed beer. Stone's Delicious IPA is exactly what it sounds like: a busty hop delivery system. The sunset across the bay puts me at ease, only to be shaken by my wife's hand landing on my shoulder. "Shall we get a cab?" she says as I toss back the lower third of this fresh, hoppy beer. "Heels? At a beer fest?" I think to myself, knowing full well if I say anything it will mean at least twenty more minutes before we leave. 
Here for both San Diego Brewer's Guild festivals and general San Diego debauchery, my only real expectation is to sample beer from fifty or so SD breweries next to the water in a really cool looking building. Instead of traversing the entire county, a proper Cliff's Notes version should do the trick. The Friday night session is the "VIP brewer takeover" session (a term that confuses the hell out of me…are the brewers VIP's? Do I physically get to take over a brewer?) and a bigger general admission beerfest on Saturday afternoon. Both festivals are held on the Broadway Pier which is generally purposed for cruise ship boarding.
Friday Night Brewer Take Over Session // Dia De Los Muertos Hígado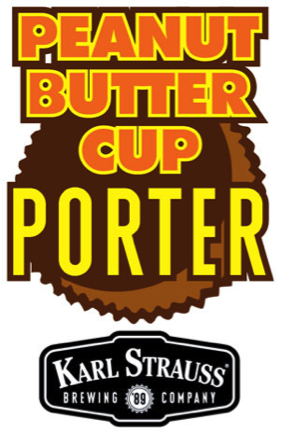 Inside only, breweries are ez-upped and situated alphabetically. Although odd, it does make my day fairly navigable. Skipping the initial clusterfuck near A-F, I land at Green Flash and nab a Lil' Freak, a pleasant wild yeast beer with crisp, fluffy carbonation and notes of tropical fruit. The whole reason my wife is here is to drink Karl Strauss' Peanut Butter Cup Porter, a beer she texted me about weeks prior to this event. We both agree this should be a regular offering from ol' Karl.
As this event includes food in the price, we opt to scarf next and are somewhat underwhelmed. Of the ~20 or so eateries, 75% brought sliders, 20% trays of various pasta and 5% interesting food. For out-of-towners like us, this is a missed opportunity for craft beer friendly eateries to give a reason to come back and check them out. The one stand-out for me is Stone Catering's crispy fried risotto followed by their tropical cream cake. The problem is, we eat there regularly and discovered nothing new. Nonetheless, we eat like we are stuck on a deserted island out of necessity, knowing full well an empty stomach and the worlds best beer = chumming off the end of the pier, projectile style.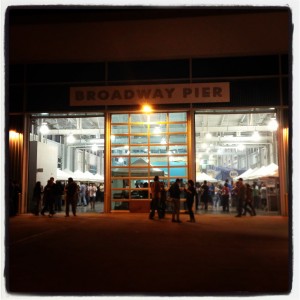 Beer-wise, imagine for a quick second that I've never been to San Diego and have never heard of any of these breweries. My overall impression walking out at the end of the night is San Diego is a "Barrel Aged Beer" city. By 8 o'clock, my tongue feels like my belt. The problem is, if you started at A and worked your way down, you started with Alesmith's Bourbon Barrel Aged Speedway Stout and the beer only degraded from that point on. Many came close, including Ballast Point's Rum Barrel Victory at Sea and Stone's 2010 Double Bastard aged in bourbon barrels. Others were good, but failed to match the balance an intensity of the big guys. Perhaps blending vs. cuvee is the issue? Maybe good base beers don't fare well in bourbon? I hate to sound like a complainer, it's just that I expect big things if I intend to defend San Diego as a beer mecca. Thus far, I'm confused why carbonation issues are a thing at a SD beer festival. I would be embarrassed to serve undercarbed beer as a homebrewer to friends, much less a VIP session kicking of SDBW.
Of the non-barrel aged goodies, Iron Fist's Roots of Wrath and On the Tracks Real Ginger Beer blows me away. With loads of palate fatigue and a four ounce pour, I'd be lying if I tried to break them down for you. Put them in your beer spank bank and order them at once if on tap. But were there hops? Not much. A few breweries have double and triple IPA's. St. Archer wins me over with balance and freshness. I'm shocked there is no fresh/wet hop beers being 11/1. San Diego, you've failed me.
Saturday Afternoon Brewer's Guild Fest // the brewer's gave it back for the non-VIP's (or something)
Compare/contrast from Friday night: Same great location plus more breweries inside and out, plastic tasting glasses instead of glass, sunshine, food vendors, easier to move about, less carbonation issues, bands, not as much barrel aged goodies, more hops.
Saturday's session is where it's at. A bright and cheery festival with a great mix of food, friends and mix of San Diego's best beer at a gorgeous location. Next year, I plan on skipping the Friday session and hitting a few more events around town. Until then, I'll keep wandering around the huge county in search of the best beer.
(Friday/Saturday glassware below and random pics)
Thanks San Diego! I'll see you soon.