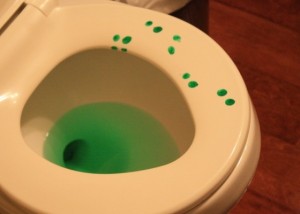 Green Beer is American Pale Light Lager brewed with government subsidized corn and rice. Add a few drops of (potentially toxic) green food coloring and you're perpetuating a stupid American tradition that makes Kathy Ireland cry! Sure, people in Ireland drink more and more light beer, but if your lads caught you adding green drops to your beer they would surely laugh until they barfed over the Blarney Stone!
Everyone likes a little Irish in them from time to time, right? Since true Irish craft doesn't make its way across the pond (yet), I really like Guinness Foreign Extra Stout. Guinness' older, stronger brother. Look for the yellow label! Not shipped to the US until a couple years ago!
Bootleggers Knuckle Sandwich DIPA: Fresh Knuckle is available everywhere this week! Its (sort of) reddish hue can fake your 1% Irish heritage into thinking you're drinking an Irish Red. At 10% ABV, you'll surely get the gift of gab and stumble around like a drunken Irishman. This weekend, check out their new tasting room with Knuckle on cask w/Citra hops Friday and their  grand opening party on Saturday.
At the end of the rainbow in Brea, there's GABF Silver waiting for you…grab a growler of TAPS Irish Red! Their Sunday brunch is no Irish Breakfast, but it's VERY solid. Later in the day they have a special 'Green' menu that is worthy of a jig.
When I think Irish beer, I think session. My favorite local session beer right now is Cismontane Brewing's Holy Jim Falls XPA. Huge hop aroma and low ABV keeps me happy! I plan on cooking my corned beef and cabbage with a bottle as well. Cismontane brewer David Larsen is 25% Leprechaun (I think) so it's legit!
What are you drinking? Be sure to follow me on Instagram and Untappd!
Sláinte!