Pulling up to the Phoenix Club at 10:20 A.M. while listening to Spoon's 10:20 A.M. is a sobering reminder of how much synchronicity I deal with on a daily basis. Even freakier as the song ends right as I turn the car off. Don't you love that?
It's raining mash paddles and beards as I puddle-trot to the non existent line outside the
huge German festhall tent typically used for the Phoenix Club's Oktoberfest. I wander around the lines of people like I'm stumbling through a corn maze of mid-morning groggy beer geeks. The most recognizable person in the crowd I spot is Phillip Macnitt, the bearded "Indoctrination Specialist" from Stone Brewing Company. Super Cool beard, bro.
As this is an initiation party, I expect to see Patrick Rue in a hooded cloak wielding a flame-branded mash paddle while barking orders at the new recruits. "Bend over you slime!" <whack> "What's my name?!?" <thwack> "Wrong! It's Professor Snicklefritz!" Unfortunately there was nothing of the sort. This is a typical Bruery party where everything is meticulously planned, organized and no drama of any sort. These guys do parties almost too perfect after learning some things from last year's Reserve Society party that had members in cattle lines for just about everything.
Right out the gate, Bottle Station 1 nabs of 3 out of my 10 precious drink tickets. I kick it off with 2009 Papier, 2010 Coton and 2011 Cuir. What a start! Pulling a Bruery Anniversary Ale vertical tasting at 10:30 A.M. on Saint Patrick's day is what this is all about. Each beer is different, yet related like sisters. One gives no head, one smells like bourbon and gives substantial wood and of course there's the Cuir of the bunch that swings both ways. Each beer paints such a clear picture of what the Bruery is all about. Rich, complex sophistication that makes my eyes roll and taste buds melt. These beers make me glad to be alive and I'm rolling only three deep.
Bottle Station 3 burgles two more of my precious wrist-tickets. Batch 50 and Melange #1 get the nod. My pour of Batch 50 was completely flat, but still an interesting taste of a Geuze. Melange #1, a blend of Oude Tart and Black Tuesday, made me smirk with its deep, dark, tart funkyness. With only a 2.5oz pour, it left me wanting more. Melange is such a tease like that.
Halfway done with my tickets, I trade my food ticket for some catered Beachwood BBQ. Pulled pork, brisket, beans, bleu cheese grits, portabella mushrooms and slaw were the options. Having eaten at Beachwood BBQ in Seal Beach, the catered version is a mere shadow of itself. The Spicy BBQ sauce was so thin it ran around my plate like I was panning for gold. That, mixed with the brisket grease made my plate look like Kim Kardashian sat on it. Edible? Yes. Pretty? Hell no. Better than a food truck from last years party? I suppose. The slaw and grits were the true stars of my plate. As all of the seating was taken, many stood around or had a pow wow on the cold, damp floor. For a $50 party, the lack of adequate seating was baffling.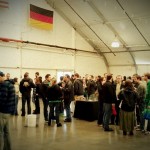 As I start on the second half of my drink tabs, I visit with Jonas of the Bruery who is manning Draft Station 1. I fetch a firkin pour of Sour in the Rye with Kumquats which is a refreshing surprise. Such a perfect piquant beer as the kumquat's natural sour citrus elevates the ale in a bright and sunny way. I'm temped to steal some Kumquats from a neighbors tree and squeeze them in my beer with a lemon press when I get home. Maybe I'll try Kumquats in a homebrew Wit or a sour of my own. We'll see. I love inspiring beers and this was one of those.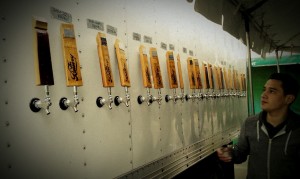 Four Tickets left I hit the brakes and decide to chat with guest tap hosts. Nate Squillace from Hangar 24 was out of Pugachev's Cobra and refused to break into session B's supply. Hangar 24's Barrel Roll series has eluded me once again! I sneak up on Jeremy Raub of Eagle Rock Brewing and he cons me into trading a drink tab for a Deuce. Well worth it too, their second anniversary brew "Deuce" is an ultra-imperial version of Solidarity, their black mild. Having had Solidarity at their brewery a month back I was blown away that so much flavor and complexity could be squeezed in a mild. Deuce is a Bigalow beer! I also ran into Jarred Dooley, former Bruery employee, current Playground "Director of Libations" in Downtown Santa Ana. I wish I had a cool title like that! We chat about their recent tap take over from Ballast Point, who really brought their "A" game with rare stuff one can only get at their brewery in San Diego.
The Draft truck outdoors nabs two more of my tabs. Despite my blog post from yesterday proclaiming that green beer is unfiltered leprechaun urine, I was curious to try the Bruery's take on it. Green Centennial Hop Oil added to my Humulus Lager made a great on-the-spot dry hop. Others were more adventurous getting Bootleggers Knuckle Sandwich with the hop oil, making a murky green swamp water looking concoction. Should I be worried that I pee'd green after drinking this? I hope not. Other tab? Einer's Folly. Not sure who Einer is, but I really liked this beer. The draft truck treated me right!
One ticket left. It reminds me of being at a dance at the end of the night, frantically trying to get the hottest lady left. Otiose would be that lucky broad. If it were a real lady, I would have struck out having figured the name is French and pronounced it "oh-TWAH". The server corrects me rather astutely with "OH-shus". Bearded guy behind me orders one as "OH-tee-us". The guy after that simply says "OH-uh, the third one down." "It means Idle Hands", the smug gal tells us as we simultaneously say "Ahhhh!". Apropos name for being out of drink stubs.
I head out and I'm greeted by a faint rainbow as Craic Haus (local Irish Rockabilly band) plays 'Bottom of a Guinness.' I swear there's a Leprechaun in my car stereo today. If Tay Zonday's Chocolate Rain came on, I would shit a pot of gold.