Highway 74, aka "Ortega Highway" is a squiggly road that looks somewhat like Charlie Brown's shirt stripe. At either end of the scenic, twisty road lies PUBlic 74; one in San Juan Capistrano, one in Murrieta and yet another in Temecula. O.C.'s locale sits atop tiled stairs, a bit to the side, and a creep around back, just a light or two from the 5 freeway.
As we're seated, I scan the twenty taps set out front and center, ready to be knocked down like bowling pins. Like a dazed robot, I glance at the lone TV; playoff hockey… the Sharks firmly chomping the Blues with a 4-0 shutout. I must be hungry, because the score makes me crave St. Louis ribs.
The beer menu is accurate, priced mostly at $4 for a 9 oz snifter, or $8 for an imperial pint. Draft beer is pulled 30 feet, lines and glassware notably clean. I opt for a Union Jack first, a beer I deemed as "a textbook IPA" on a recent podcast blind IPA showdown, and note its freshness, then dive into some food like a shark possessed.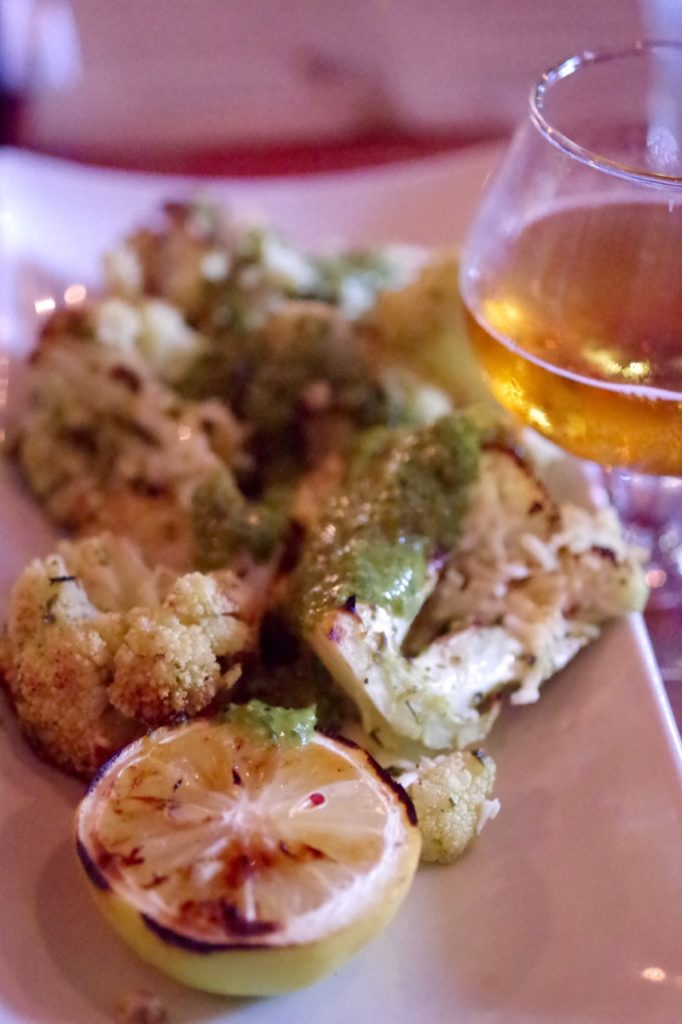 Starter: Callin Flower (left): Grilled roasted Cauliflower with spicy chimichurri and a serious dose of Pecorino Romano cheese. I asked chef Gerry (who looks somewhat like Sammy Hagar), "Is colly the new Brussels?" he replies, "actually it's broccoli." Great start and IPA pairs well with the layered cheesy lemon squeezy.
2) Fun fact: I like goats. If you do too, The Now Infamous Goat Toast is worth a stop alone. The bread crunch sounds somewhat like walking through freshly-fallen snow, only the snow is herbed goat cheese, and those aren't uninflated red beach balls, those are in fact the sweetest, ripest, juiciest roasted tomatoes next to a leaf pile drizzled in motor oil. Oh, it's not? It's balsamic reduction on top of arugula? You are so right. I just verbally played with my food.I like to verb my nouns from time to time.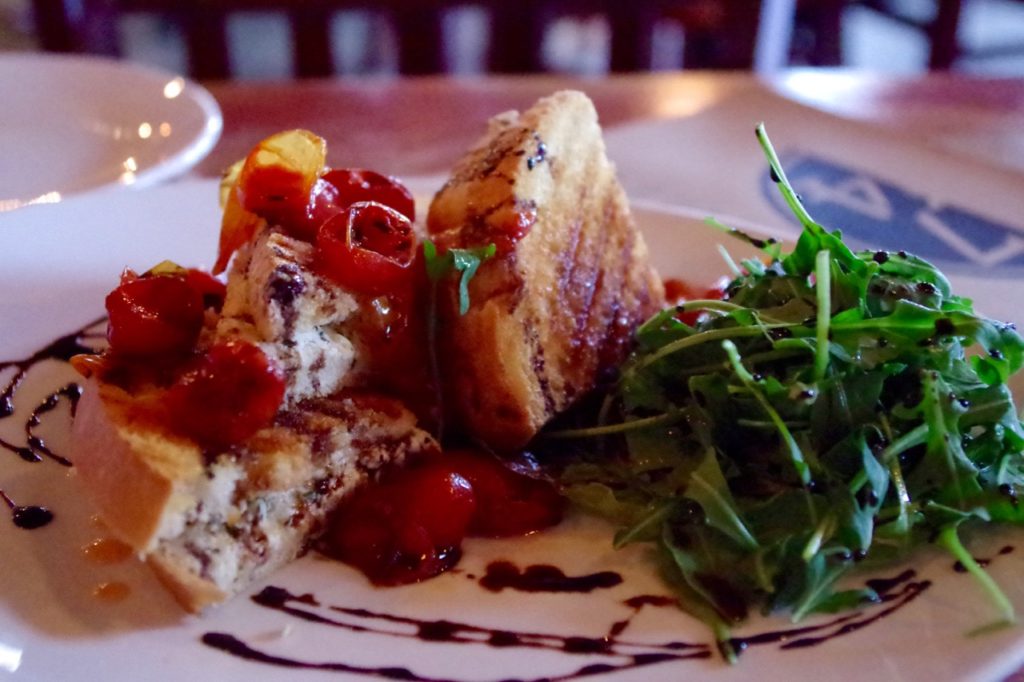 3) Macc'n Frenchy (below) may sound like something I did in Europe atop the Eiffel Tower, but rest assured, it's a French Onion Soup inspired Mac & Cheese, and it's DANK, smokey, herbaceous, and holy hell I want to mac on a Frenchy now.
4) Let's talk about the Kobe Goes Animal Burger for a minute. It actually doesn't look like much, but I will make a bold statement and say this my new favorite burger. The flavors burst in waves, everything down to the sturdy bun, ripe tomato, beef that melts like buttuh and is seasoned ever so perfectly with salt and spread. Protip: don't quarter this burger, halfsies will do. Fries? Oh yeah, the fries were also good. Splittable, for sure.
5) What you Smokin Reuben? "Nothin, just some hickory roasted corn beef piled on rye, Emmenthaler Swiss and krunchy kraut." Okay. This was my panty dropper. If I had panties, they would be on the ground. A bit on the salty side, so make sure and have a sturdy beer to back things up. Barley Forge IPA was my copilot.
6) Despite much table controversy, the Grandson Meatloaf doesn't contain any children. It's basically poutine minus the curds. The fries hiding underneath the hefty slab of durok pork & chicken are the real treat. Kind of like the time I saw a dollar bill stuck to a stripper's butt after she walked off stage. Yeah, sort of like that. Gravy soaked fries are just like that.
7) Chocolate Banana Bread Pudding, that is served hot, steamy and scrumtrulescent. Pair it with a stout, or Hefeweizen!
Here's a tap takeover you should check out for American Craft Beer Week! 
Here's some decor shots.