Thanks to craft beer, the smell of nearby horse stables makes me salivate. "Smells like a brett beer out here!" I say to the guy behind me. "Nowhere else in the world would that make sense" he says with his hands folded in his armpits. I snicker nervously wiping sweat from my brow and move up two steps. The long line to get in Patrick Rue's Big Top Cirque du Biere are barking like blood-hounds in search of a killer. Today, they're anxious to sniff out some serious boozy barrel, funk, horse blanket, and other sour beverages on this warm afternoon.
Members lay down 80 cents a day to be a member of the Bruery's Reserve Society; a buck-ninety a day for the Hoarders Society. Each one nets the member a full list of benefits. The Initiation party is a means for members to sample aging rarities, one-time cask ales, and preview some things to come. I'm here to try things I've never had.
Inside the big tent, the cask of Hottenroth with Fruity Pebbles catches my eye for beer #1. "Yabba Dabba Doo!" I yell in my best Fred Flintstone voice. For a ~3% beer, this thing freaks my tongue out with some fake funky fruit, then drowns my mouth with a dry sour bath. On a side note: If you ever get the chance to sample Leinenkugel's Summer Wheat, it tastes EXACTLY like Fruity Pebbles!

Perhaps it's my traditional German upbringing or the hundreds of times coming to the Phoenix Club for Oktoberfest, but this is perfect place to host a beer fest. The festhalle tent, sprawling tables and grassy area offer more than enough room for the average beer savant RS member to sauce it up comfortably…weather permitting. Last year's party was cozy and leaky like a sorority bathroom. The playground at the club even offers recess for those members wishing to relive their drunken father childhood.
Needing food, I chicken dance over to the Haven EZ-UP. Scored a potato roll the size of DAS BOOT, Inglorious Basterds ale braised scalped beef, Run Lola Run beer beans and Saving Private Ryan's cumin coleslaw. Knock knock! Who's there? Cumin! Cumin who? Cumin Coleslaw in your mouth! The real star of the offerings are the handmade BBQ sauces and mustard. I nearly went back for seconds to get additional pump-squirts like a dirty little German boy! I chose the beer Anniversary in Rum (formerly held 5 Golden Rings) to pair and it did a nice job bringing out some bold BBQ flavors. The beer's big time coconut boozy rich rum matched intensity, heightened the sweet meat and warmed my bitter soul. This is easily the best beer festival food I've had. Hopefully a sign of things to come in the now abandoned Bruery Provisions spot that Haven will take over soon.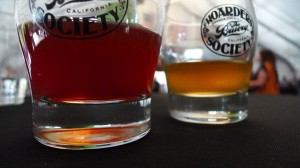 In the end, sour beers win my best in show. Maybe it's the nice weather that makes me swoon over the tart goodies. Maybe my palate is changing. One thing is for sure, The Wanderer, Griffon Bruxellois and Sour in the Rye with Peaches easily win my best in show. Sure the Black Tuesday's of the world are great, but these beers offer a glimpse of what the Bruery is capable of: a family complex living beers. As Bruery Provisions closed, I hope the focus on a more robust barrel program yields many beers like these for years to come. Great party by the way! Cheers!
Beers I enjoyed:
Hottenroth with Fruity Pebbles
Anniversary in Rum (Formerly held 5 Golden Rings)
Food from Haven Collective
Imperial Loakal Red
Griffon Bruxellois
The Wanderer
Mocha Black Tuesday
Nottenroth
White Chocolate
Sour in the Rye with Peach
Riesling Sour Blend
Saison De Lente