Beachwood BBQ & Brewing. If those words aren't part of your craft beer vocabulary, I'm going to send you a free copy of Rosetta Stone's craft beer language edition* and whip a piece of pulled pork at your eyes, you filthy swine.  Not only does Beachwood 'que up some world class BBQ and sinful Americana style dishes, the house beers brought home some serious hardware at the Great American Beer Festival 2012. Co-owners Gabe Gordon (chef), wife Lena and Brewer Julian Shrago's food and beer recipes are a match made in heaven; and worthy of a solid write-up, Gonzo style.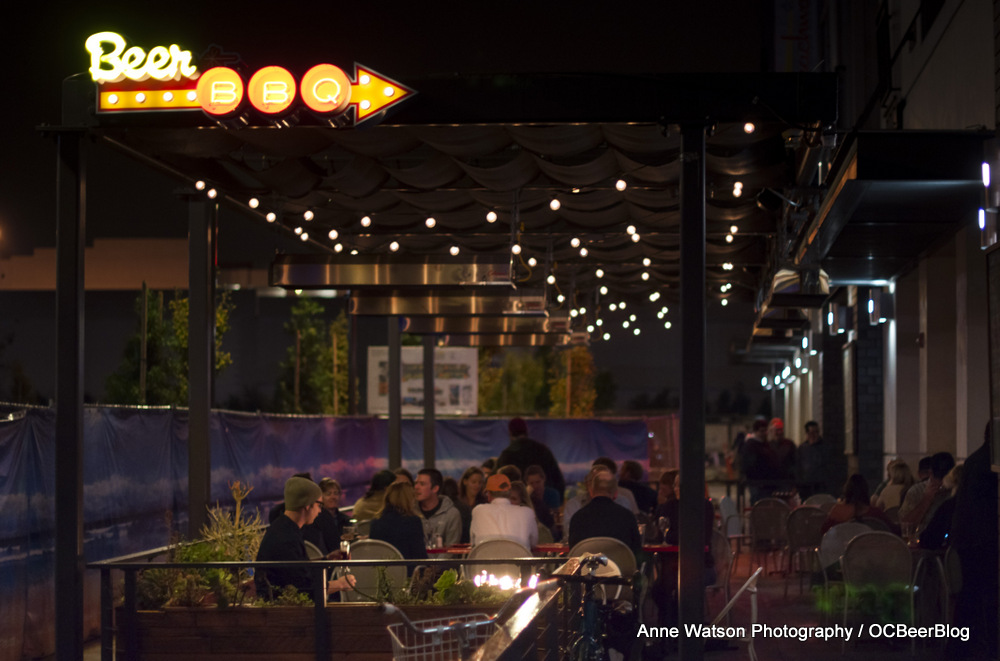 Thurs. Nov 15, 5:45 P.M.
If I told you that I received a full frontal body massage while standing on a street corner, you'd probably ask, "Long Beach, right?" and I would say, "yep, but it's not what it sounds like." See, I was in fact on a street corner, in Long Beach, punching a crosswalk button like Bruce Lee as two vintage lowriders roll up. Each car's stereo is easily bending the space-time continuum with bass so loud it feels like I'm being attacked by a swarm of french ticklers. A young lady passes me by mid-crosswalk pulling pomeranians like she's flying a kite. "Where's…..Beachwood……BBQ?" I ask in-between bass thumps. She points ahead and rushes off.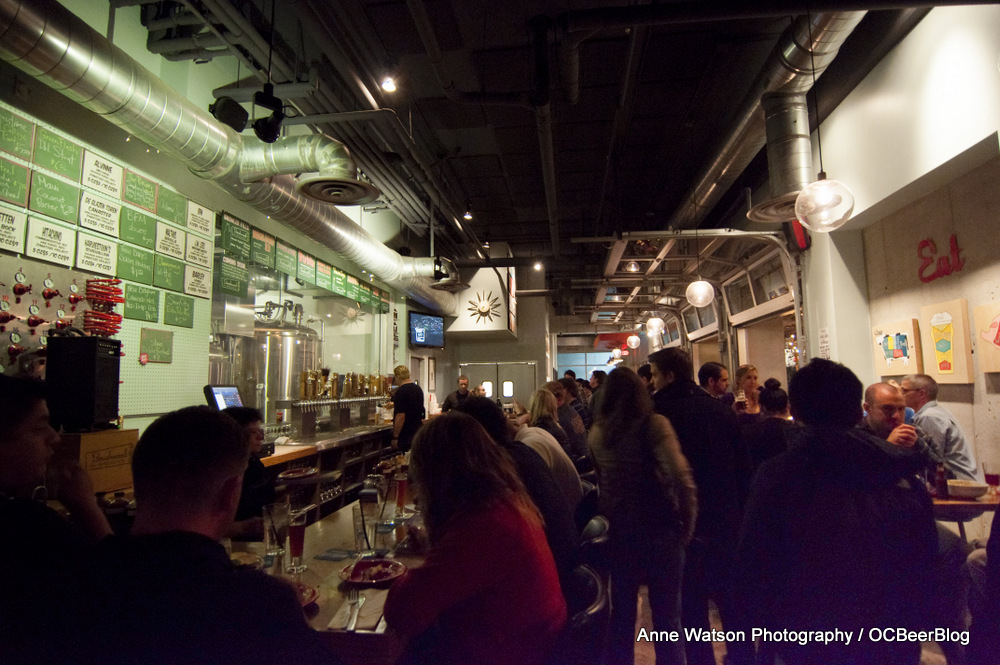 The dark drizzly night puts me in the mood for comfort food and a nice roasty stout. Ashley (hostess), welcomes me like I'm family. "Sir, the Zymatore Project is in-house tonight, there's special beers paired small plate dishes", she says while handing me a page that reads like a menu at a French brothel. I stutter like a drunken Texan trying to say "BFM Abbaye De St. Bon Chien Aged in Pommeau Barrels from Brasserie des Franches-Montagnes from Jura, Switzerland. (view the evening's menu here: 1 2 3 4 + food) "Wait, wait, wait a fucking minute. I pick a random night to come to Beachwood and and I'm here with some of the rarest barrel aged beers in America?" Indeed.
Ignoring the details of each beer, I roll up my sleeves and start with the lowest ABV; a 5% Italian Wit beer aged in "Orange" Wine barrels; Birrificio Barley's Friska. I play coy as she gently touches my lips. She's tart, provocatively dressed to style and teases my tongue. Friska is flogged with natural orange zest while her friend Coriander bats her lashes from afar. "Respecte le donne!" I yell, getting strange looks from the bartender. "It's an Italian Spiderman joke, google it."
Briefly, the Zymatore Project is kind of like an art museum getting the Mona Lisa, touching her up with some eyebrows and cleavage, then loaning her out for parties. Not only does B.United import rare beers from around the globe, they go another step creatively and re-age beers (also meads and ciders) in specialty barrels for this project.  Some beers they evoke a secondary fermentation with fruit, adjuncts and wild yeast, boosting the character and alcohol. Michael Harman, B.United's West Coast Division Manager says "We will only do a secondary fermentation if the brewer is okay with it." Just when I'm comfortable with American craft beer, discovering the Zymatore Project quickly makes me feel lost in a vast landscape of ever-evolving beers.
Aside: Just as Beachwood is collaborating with B.United for the night, I've joined forces with Orange County Gayot food critic and OC Executive Magazine mogul Richard Manning as well as the highly acclaimed food photographer Anne Watson. Any time I can get a solid opinion on food and professional photography on the blog, I'll take it! I highly suggest browsing their work as they're both huge parts of the Orange County food scene. I love and respect both immensely!
On to tasting… Of the five Special Appetizers offered for the Zymatore event, each has a suggested beer pairing with prices ranging from $7-$12 for each. (click to view). The Grilled Chicken Breast on wilted greens appetizer, for example, is cooked with with orange and coriander; the same ingredients brewed in the Friska Wit Bier described above. Each dish is well thought out and crafted around the special beer selection for the evening.
The Chicken & Duck Liver Pâté with toasted bread rounds is a perfect entry into Fall/Winter. "November is finally here!" says Rich as rain drops pelt the outside tables. He adds, "Mason jars are popular these days in fine dining." I note that the bread rounds crunching in my mouth sounds like someone walking in freshly fallen snow . The Pâté is delicate yet full of mineral goodness. The suggested beer, Hofstetten Granit Bock aged in fortified wine barrels plays well with the Pumpernickel rounds and cleanses the rich fat as it melts across your palate. I wish I could fit my face in that mason jar, dammit. Anne quips, "doesn't Pumpernickel literally translate to Devil's Fart?" Yes!
My other favorite dish on the special menu is the Duo Smoked Game Sausage – Venison and Duck sausages on top of a red onion marmalade. The sausage is bundled handsomely with a mild smokey heat and rustic earthiness, sort of like Hugh Hefner in the 50's. The filler is grainy like black pudding dotted with wild berries to twang up the sweetness. Cranberry in the filler screams "Autumn!" and I'm left screaming for more. The sweet marmalade hiding out underneath brings out the best of our beer choice: J.W. Lee's Moonraker with Wild Yeast. When I think wild game, I think British beer to wash it down and to boost an earthy sweetness.
Other dishes you MUST try when visiting Beachwood BBQ: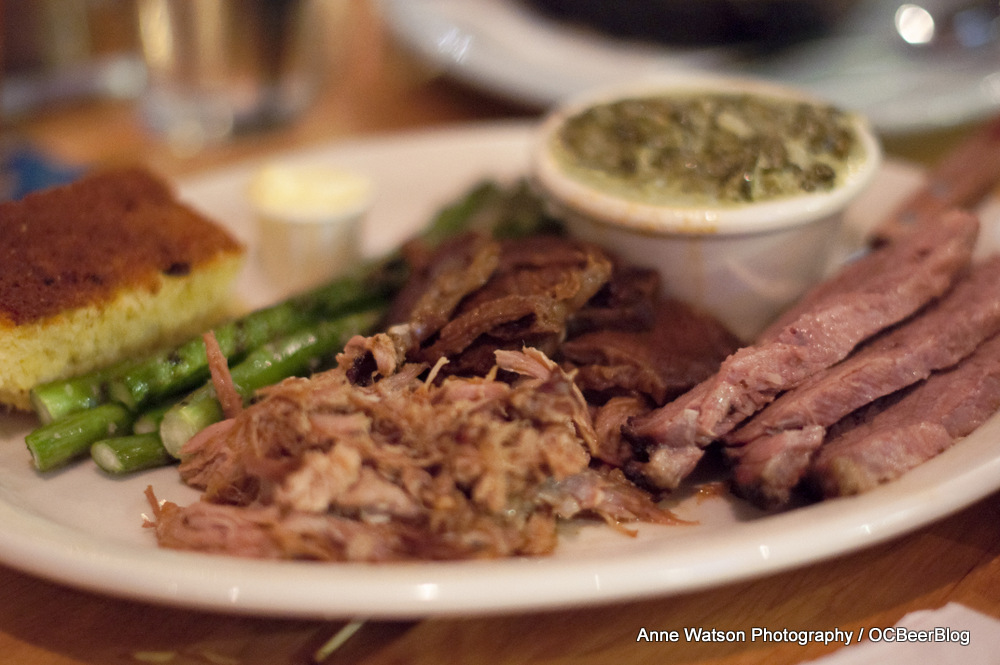 BBQ! If you can't decide, do the "Choose three items" option to get the best of each world. The pulled pork is a masterpiece and must be tried. Seriously, if I was a pig, I would gladly offer myself up to Gabe. "Oink Oink, Gabe! Please put me in your smoker and dry rub my butt kind sir!"
Baked Mac and Cheese! You're probably like, "yeah yeah, what's so special about it?" Rich Manning says, "It's probably the best Mac and Cheese in the Greater Los Angeles area. It's smoked and dense with a huge flavor depth". "Ooooh, this is worth every calorie!" says Anne.  The Gruyere cheese beer sauce oozes, coats and stretches with each bite. The crunchy crumb topping lends it a light crunchy shell. "But is there bacon?" Yes, there is bacon, you filthy, filthy pork slut.
The Wild Mushroom Stew is another favorite although probably overlooked on such a deep menu. The "umami-bomb" Mushroom Stew sits on a sinful double dollop of blue cheese grits, the kind your momma used to make, if your momma is Paula Deen.
But wait, there's beer! If you need yet another reason to visit Beachwood BBQ, the beer program is one of the best I've seen. Here's why:
Full set of award winning house brewed beers. Each has a distinct full body and bold flavors that stand up to the rich food. Belgian style ales, Stouts, IPA, ESB, Pale's, etc. There's something for everyone and all brewed in house and super fresh. Do a flight, grab a growler to go.
Lineup of rare and classic craft beer from around the world. Whenever Pliny the Elder is 'just another beer' on the draft board, that's saying something. The revolving taps alone are worthy of a trip, not to mention a full cellar of rarities. The list is thoughtfully planned with many styles covered, big beers to sessionable, low to high IBU, fruity, roasty, no 'tap overlap' with ten IPA's…I could go on and on.
A bar packed with craft beer fans. There's something to be said about the craft beer community. We like to talk beer with each other. Beachwood's bar is packed solid with geeks, newbs, homebrewers, pro-brewers, and craft beer celebrities. The bartenders and wait staff are also highly knowledgeable and not snooty.
Multi-zone draft temps! This is seriously insane. Some draft handles are served at cellar temp, some are served at colder temps. Gabe Gordon created the "Flux Capacitor" which monitors CO2 and allows for per-line adjustments. At Beachwood, you can get a Barleywine or rich Russian Imperial Stout served at suggested cellar temps! No more coddling your beer like a baby until it warms up! It also allows for certain styles to have more or less gas, making 'mouthfeel' fine tunable. This is the geekiest thing I've ever seen at a bar.
Special events! The Zymatore project listed above is only a small part of what Beachwood brings to the table. I seriously couldn't be more blown away by what the B.United guys are doing and for Beachwood to bring it to the public. Check their website or Beer Advocate for details on future events.
Beachwood BBQ has a smaller location in Seal Beach without the brewpub; same great food and superb draft list. Both are craft beer beacons of Orange County! Make sure and check out the rest of our pics! Thanks Beachwood
*Rosetta Stone doesn't have a craft beer language edition, silly. Go buy Tasting Beer by Randy Mosher and learn super geeky stuff.