People often ask me, "What's your favorite beer?" My reply is usually a stupid canned answer, "The one in my hand." It's much deeper than that though. Beer is a moment; a snapshot in time. It's not always about the rarest or most costly of beers. Often it's the time, the place or the people I'm surrounded with that make a beer truly memorable. Here's ten of those favorite beer moments and snapshots from this past year in no particular order.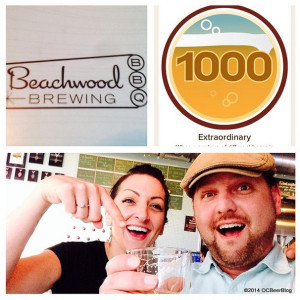 1) Hitting my 1000'th Untappd check in at Beachwood BBQ & Brewing with the Hops of Brixton, poured by my favorite gal, the Beer Bird herself Catelyn Willig. The beer is a bold ESB shining with British cracker-like malts clashing with East Kent Golding hops. It's one of my favorites at Beachwood and get it first. Extraordinary!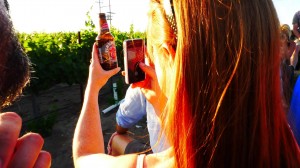 2) Camping at the Firestone Winery and drinking one-off Barrelworks beers at Firestone Walker's original brewhouse? This totally didn't suck! One beer that stood out was a wine/beer blend called "Zin Skin" that poured with a huge fluffy three inch head; only to watch it disappear like a big bubble being popped. Pictured is galpal beer writer Erika Bolden snapping a shot of DBA while on the back of a flat bed in a grape field.
3) When you get invited into the Coolship room at Allagash Brewing in Portland, Maine, you go in. When you uncork a beer that was spontaneously fermented in there, that's pretty damn spectacular. Arguably one of the most acidic beers I've had in recent memory, Coolship Cerise simultaneously melted my tooth enamel and caused "instaboner". But was there sex in the coolship room? I'll never tell.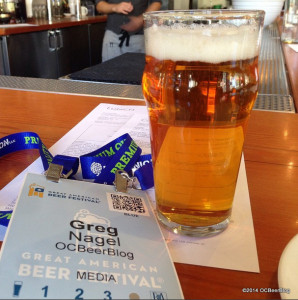 4) Flying into Denver for GABF and resetting the palate with a familiar beer is always a great idea. When the beer is Blind Pig from Russian River, it's even better. Joined by Four Brewers compadre John Holzer, we dined at the Kitchen in downtown Denver and nearly watched a guy choke to death on water. Truly memorable!
5) For some reason, Ben & Jerry's Ice Cream thought, "hey, lets team up with OCBeerBlog for a special tour of OC breweries." Challenge accepted! One highlight was having the B&J truck stop at Bottle Logic to hand out free samples of their Core Tour stuff. Bottle Logic put on a special cherry milk stout to make impromptu Cherry Garcia beer floats! Check out their blog post here. 
6) TØRST in Brooklyn is one bar you must visit on the east coast. It's pretty much like one part Mikkeller Bar in San Francisco mixed with one part Beachwood BBQ; so much so that they even have a flux capacitor and dual draft temp zones. I drank some remarkable beers, but my favorite was I Love You With My Stout by Evil Twin.
7) I never thought Russian River would have two spots in my top ten list as I'm not a huge fanboy. But hey, getting the second pour of Temptation from a 9 Liter bottle by Vinnie Cilurzo himself? Out-fucking-standing. Firestone Walker's Invitational Beer Festival remains my favorite thing to do besides sex. FACT.
8) Taking an unreleased beer off of Golden Road's new canning line, cracking it, snorting the can-hole, then chugging it is number eight on my list. Thanks to the Beer Blogger's Conference for the exclusive access behind the scenes for this guy…and thanks to Meg, Tony, Laurel, Sara, Franny, Tim, Jesse and the rest of the team there I call friends. Victor? He wasn't there yet, but thanks anyways, el hefe.
9) Of all the ways for a yet-to-be opened brewery to show off their skills, Three Weavers quickly won over my heart with this collaboration with Noble Ale Works. The Messenger was indeed a message in a bottle, saying "hey, I'm a citrusy IPA made with Buddha's Hand fruit and other fun stuff." I loved this beer, Noble, and Alex Nowell quite a bit.
1
0) The Bruery makes some tantalizing big barrel aged beers. Their anniversary series has been one that I've dismissed in years past until I sipped Sucré. With any solera blended beer, there's a sweet spot where the liquid can take on a fruity note. I guess year five was it for this beer! Layered with fruit, toffee, oak, vanilla, brown sugar and other confectionary adjectives, this beer is insane. Sampled at their anniversary event at the Phoenix Club among friends, brewers and great BBQ from Beachwood…this rounds out my list perfectly. If I had to pick another, #11 would be sipping Sour in the Rye from a barrel in the not-yet-opened Terreux. Shhhhh! Don't tell anyone!