Driving down a two lane road a half-mile deep inside orange groves makes me roll down my windows and screech the car to a halt. "Smell that, kids? It's oranges" I say excitedly. My daughter says "I smell paint" in her nasally voice. Indeed. Smog fills this noxious punch-bowl of a valley like a witch's cauldron on Halloween. Surprisingly, I can actually see the mountains a mile or so away from the Redlands Airport which means it's only a stage one smog alert.
A stone's throw from the Redlands Airport sits Hangar 24 Craft Brewery. I have a lot of history in Redlands. Most notably, I lost my virginity by a girl named Sam; a tall debutante with Tinkerbell-like hair. Twenty years later, Hangar 24 Craft Brewery was born. Note that it's not my baby…Ben Cook, H24's founder and master brewer would lay that proverbial pipe four years ago.
Most breweries have a fun story to tie in their inspiration or side hobby. Hangar 24 is no different. Breaking it down in children's book format:
Ben flies airplanes. Ben brews beer. Ben shares beer with friends. Ben builds a brewery by the airport. Ben brews Orange Wheat. Ben has more friends. Good night, Ben. The End.
As Hangar 24 recently reached 15,000 barrels per year, they are the quickest brewery to reach Regional Craft Brewer status, ever. After touring their meager brew house, I'm not sure how this feat is accomplished. "We maintain a 24/7 brew schedule here at Hangar" says Donn, the tasting room Host. Most tasting rooms are devoid of activity while their brewery is operational. Not Hangar! My group was able to whiff a full bucket of CTZ hop pellets, chat with the brewer, put on safety goggles, pretend a hose is our shaft and hump a brite tank, and generally geek out on the live operation.
I enjoyed the old school manual labor bottling line. "The bottling line came with an Italian user's guide, and randomly causes a bottle to explode while in use". I'm sure some Italian engineer built in that functionality to keep workers awake. I fucking love Italians.
The line of people in the tasting room is all that separates the brew house from the tasting room counter. A few local gals, dressed in traditional Inland Empire garb (miniskirts and flip flops), oogle a brewer cleaning out a filter. Two of H24's beers are filtered per style, Helles and Pale Ale. I order a tasting flight of all their beers and get served a custom wood tray, when filled with all eleven beer tasters, resembles an artist's palate if he was going to paint a bale of hay. We were instructed to start at the lowest IBU and go from there, which in our case was the Belgian Summer Ale, Orange Wheat, then Palmero.
Drinking their Belgian Summer Ale at this moment in time is pure heaven. Brewery fresh seasonal beer, aimed at drinking on a hot summer day is a bullseye with everyone around us. It looks like a Wit beer, with even some of the traditional coriander (or nutmeg?) notes backed by a funky fruit (Pluot?), finished with a refreshing acidic kick (tart lemon?). It was tough to nail down the subtleties, but damn this beer is refreshing. Craft beer converts usually stick with the Orange Wheat, which is a shame with this many low IBU offerings.  I did learn that Orange Wheat flavors change twice a year due to the availability of Orange varieties. Some H24 fans are snobby towards one or the other!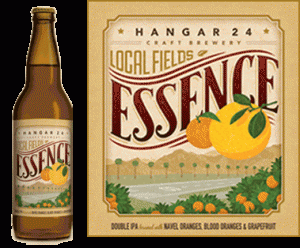 Palmero is my other favorite of the day, cutting loose from the other hopped offerings. Hangar 24's Local Fields beers have been full of character and, you guessed it, stuff from local fields. Packed with dates from the nearby Coachella Valley and  fermented with a Belgian yeast strain, this beer gives off tons of dark fruit notes that reminded me of a traditional Swedish drink called "Glög", but in beer form. Their other Local Fields beer, Essense, is essential to finishing a hot day in the Inland Empire. A Double IPA packed with three varieties of citrus (naval orange, sweet blood orange, and grapefruit) is also super refreshing. The grapefruit shines through on the finish, really carrying the complimenting hop aroma and flavor.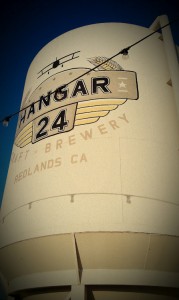 Their regular season lineup has something for everyone. The aforementioned Orange Wheat remains their top seller on top of their Pale Ale, IPA, DIPA, Helles, Alt Bier and Chocolate Porter. For the beer geeks, look for their Barrel Roll series and variations of beers on cask in the tasting room. I personally look forward to Polycot fermented 100% with Brettanomyces.
Bottom line, if you're ever out in the IE, Hangar 24 is a must-stop! Pick me up a few bottles while you're there! Thanks Matt, Donn and their whole team for the tour and hospitality! Service was excellent!
Gripe: My only piece of criticism with the visit is the taster board. Too many beers + small plastic cups + hot sun = insta-skunk. I opted for beers I haven't tried first and picked a few favorites. Proving a point to a guest near me, I ordered a pint of a beer we both didn't care for in the taster, but loved the pint. My suggestion would be to break the taster board into smaller chunks of four with themes, sort of how Bruery Provisions serves flights. Perhaps even work in the airport 'flight' theme. Serving so many beers at once without an accurate sheet describing everything is also confusing for most. We did have a sheet, but it only listed eight of the beers.