One of the hardest parts of beer travels is keeping track. I did a pretty decent job in 2015, however. Google Maps and Untappd made beer hunting around the country a snap.
Being a bit indecisive, I have a hard time creating my own "Best of" or "Top 10" lists, so I thought it best to highlight a few of the stops that made my travels memorable.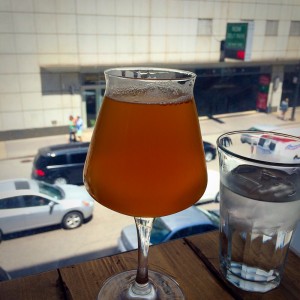 2015 included 99 different breweries in twelve states. I can't believe I missed 100, by just one. 49 of those breweries were in SoCal alone. Since you're reading this blog, you most likely have your own solid opinions about our local brewing scene, so who am I to correct you. So with that, my highlights do not include any local SoCal breweries.
Portland Maine! Yes, I know this City has been creeping up the beer destination lists for the last few years, but dammit if it's not true. And not just beer, the whole fucking City. Great beer, food and people.  A perfect example, while getting a coffee at a local roaster. I asked the barista, as one would do, for some pointers on the local beer scene. After a quick back and forth on his favorites I went to go sit down with my wife. I few seconds later a young woman got up and walked over to our table. She overheard my conversation and proceeded to write a complete list of recommendations, including breweries that were so new that they did not show up on any map or listing. She also provided guidance on times and locations. For the remainder of our stay, we reference that list. Now that's the way to support your local beer scene. Portland also just happens to be home to Allagash Brewing and the not too far away Maine Beer Company (see below).
Maine Beer Company Look, if you're going all the way to Portland Maine, make the extra drive to the Maine Beer Company. I've had a few Maine Beer Company beers in the past and I had high expectations. They did not disappoint. All the beers I tried were super clean, refreshing and on the dry side. The overall quality of all the beers were outstanding. Lunch IPA and Peeper Pale Ale were two of my favorites that were on tap. Their tasting room is a clean, minimalistic space  and overlooks a very organized brewery. This is a must stop if you find yourself in the area.
5 Rabbit Cerveceria – (see my previous post) In short, loved their take on beer styles.
Amador Brewing Company – This brewery opened in 2015, and is tucked away in the small town of Plymouth, Ca. Yes these guys are new and only time will tell, but I was impressed.  Great vibe in the tasting room, with both inside/outside seating. Solid beer selection and great staff. Amador is worth checking out. On a side note, they are located in Amador County, which is winery region in Northern California (just in case you needed a another reason to stop by).
Victory Brewing Company – I'll be honest, I don't drink much Victory beer. We were staying outside of Philadelphia, and figured we need to give Victory a shot.  After an hour+ drive into the country we arrived at their Downingtown location. Not much to look at from the outside, and the place was packed. When we walked into the brewery/restaurant, it was not what we expected. Great menu and over 20 beers on tap. Headwaters Pale Ale, was my favorite and would be a go-to beer for me if I lived close by. At 5.2% ABV and hopped with citra – simcoe, it's hard to go wrong with that combination. I was really impressed with the beers that don't make it to SoCal.  A perfect reason to not to always judge a brewery strictly on what is easy to get at home.
Arizona Wilderness Brewing – Interesting and unique beers, although the selection wasn't quite the best when I visited. A very cool spot and the staff was very welcoming and over the top friendly. They were in the midst of an expansion, so I'm looking forward to getting back there during baseball spring training.
Out of the 99 breweries, it's nice to say that there were only a few truly bad experiences. The majority of the breweries had nice selections, quality beer and friendly staff.
Follow Robert French on Twitter @ThreeFrenchs