Upon one sip of Valiant Brewing's Quad IPA Alpha Overdrive, I'm pretty sure I reached a higher level of cosmic consciousness. Incense quickly filled the room, a third eye opened up inside my glass and I'm pretty sure brewer/owner Brian Schroepfer started to charm a cobra out of a mash tun with a pungi flute.
A few more sips and it hits me…this beer is an opium den in a glass.
Hovering in the lotus pose at least two inches over a dusty rug, my glass is filled with the potent 14.2% ABV beer. My first thought with such a beverage is disproving it instead of enjoying it. Is it a gimmick? After a few more sips of this chest-warming beer, I keep going back for more.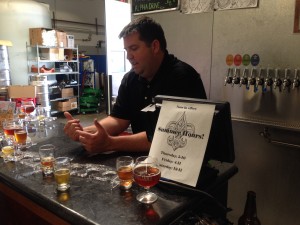 The first shock is the mouthfeel. It's full, yet dry. Finishing at a low 1.015 FG, the beastly yeast had to travel through the valley of darkness from 1.137 to reach pure zen. Sure the alcohol is there, but it's not fusel. Each addictive sip my chakras glowing wildly; Alpha Overdrive is a heating pad for my soul.
It's not a hop bomb either. Balanced nicely, most of my nose is filled with caramelized malts from a five-hour boil. Some peach, melon, citrus zest and a bit of freshly-licked cherry Tootsie Pop make up its complex flavors. As it warms, layers unfold. The only question my mind after drinking this big beer: how many licks does it take to get to the center of this Tootsie Pop? Stop in to find out!
Official release of Alpha Overdrive is Friday 6/27 at Valiant Brewing's brewery and taproom. First 30 guests get to fill a 32oz growler! Draft only release. / www.valiantbrewing.com