Valiant Brewing Co. Brews Custom Beers For Anniversary Beer Dinner at Hopscotch Tavern in Fullerton.
Deep within Orange County's vast culinary jungle, Hopscotch Tavern's Executive Chef Cody Storts is war painted clutching a spear, a fish net and a double barrel shotgun. Spotting a flock of ducks overhead, he takes a shot in the sky Nintendo Duck Hunt style. "This will be perfect a perfect starter for our seven course Valiant Brewing beer dinner" he laughs like Rambo, wiping his brow across Swedish Chef tattoo'd bicep.
The Unexpected:
When the first dish of any multi-course dinner includes duck liver contraband paired with a 12% Belgian style Barleywine, it's basically culinary punk rock. "Search and Destroy!!" I think crunching into a bite of the forbidden PB&J. Peppito butter? Strawberry jam? Foie Gras? It slam dances across my teeth and does the pogo down to the pit of my belly. Paired with Valiant's "1" Anniversary Ale, my face melts down to Hopscotch's outdoor patio boards, then reconstitutes as the sun sets over the nearby Fullerton train station. I'm not exaggerating. This actually happened.
Okay, that's it! Review is over! Wait, what? Six more courses to go?
I can't say I've ever had a Lager Barleywine, but it's a thing here tonight with course two. The homebrewer in me squints, eyebrow raised at this potent bohemian concept coming from Valiant Brewing in Orange. "Who the hell would start a beer dinner with two Barleywines back to back?" I mutter to myself. As I've come to understand, the beers paired for tonight's dinner are small batch brewed just for this event (aside from the bottle which each guest will take home). Normally, beer dinners are an 'arranged marriage' type of deal. Tonight's dinner is more like 'The Bachelor' with both sides vying for my rose. Who will get sent home? Who will get jacuzzi sex?
Executive Chef Storts took over the reigns at Hopscotch less than a year ago, ushering out "slow food" and bringing in bold, adventurous gastropub cuisine.  Out with big racks of slathered ribs, in with a sous-vide, layered approach to freshness and presentation. Backing up his kitchen is a 120+ militia of whiskeys, cocktails, wine and 24 handles local craft beer (plus bottles to-go as well). Hopscotch is a gem as it staffs a Certified Beer Cicerone as well as a Sommelier. If you have any questions on beer, wine or cocktails, this band of culinary commandos has street cred as well as a the paperwork to back it up.
The Good
Moving to course three's crispy pork belly dish plated with "pecan candy" and ultra crispy fried tripe, I feel like we crossed the border from San Diego to TJ. The tripe is like a salty honeycomb chicharrón with a super dense loufa-like crunch. Dipped in a herb demi glace and topped with a piece of pork? It's a loaded bite that fires on all sides of the tongue, popping its pork candy nuttiness across my taste buds. The Bruce (Valiant's Scotch Ale) doesn't mess around either; coming in like 'The Wolf" in Pulp Fiction; cleaning up the richness on my palate like a murder scene. "It's some serious gourmet shit!" – Jules Winnfield.
Expecting the next course to be a tadpole tureen topped with actual deep fried Kermit the Frog, we are served the next best thing: Elk medallions with bourbon soaked bing cherries. The dish cuts deep with a rich velvety game. Who knew Elk had so much game? Valiant's Lacto Cherry Stout is the last beer I thought they would bring to the table. Tart and roasty with funk on the nose, tasting somewhat like a sour Schwarzbier. It does a nice job drawing out a smokey component while complimenting the cherries in the dish. Who needs Kermit when a dish like this shows us the rainbow connection (for lovers and dreamers like me)?. Although the lacto-tart-roasty beer is an interesting contrast to the plate, it didn't really stand up to the richness and depth of flavors in the elk. I'd like to think Pathos, Valiant's Imperial Chocolate Porter, would have been the obvious pairing. Regardless, still fun to sample a one-off beer with so much character.
The Bad
Fair warning: This paragraph is a bit 'yelpish', but needs to be said. When the beer for course six came out and I didn't get course five's food, I quickly realize that I've been skipped. My table mates plates empty and my server laughing hysterically in conversation with a guest nearby, I suck it up. Despite smoke signals, drowning hand gestures and ESP sent his way, it's clear I'm out on this round. Should I get up and walk to the kitchen? Should I sulk and write this paragraph?
Tired of hearing my friends say, "Greg, I went to Hopscotch because I read your last beer dinner review, but we've had better service at Dick's Last Resort." or "Greg, Hop's bartender told me I lacked intelligence because I wanted a cocktail from last season's cocktail menu" or "Greg, we walked in, waited for twenty minutes and walked out because nobody talked to us after we were seated" or even "Self, the waiter didn't serve yourself a course in a hundred dollar beer dinner." If you do eat there and have a bad experience, pull up this paragraph up on your phone and show it to the manager and say, "THIS." The back of the house is only as good as the front, and stuff like this makes me sad.
The Best: Winner Winner Lengua Dinner!
Quickly forgiven and forgotten, (thanks chef for plating me a course five) irony plays a role with my plate-licking skills on course six. The kitchen must have called an audible on the menu-listed Braciola and went with a Lengua/Rabbit demi glace dish with brown butter gnocchi and broccoli rabe. I'm not sure I've ever been so entranced in a plate of food before. I consumed it with force, scraping every last microbe of the savory dish down. This dish can convert anyone with a cow-tongue phobia…seriously. Not caring for the cherry wheat beer (really sweet), much needed water (and a shot of Four Roses Bourbon) revives my senses.
OH MAI, Dessert!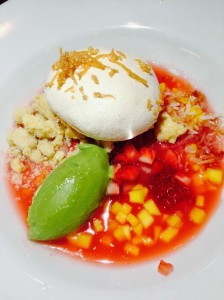 I dislike 99% of all dessert. My beer tooth is just that much bigger than my sweet tooth…with one exception: Anything that pastry chef Mai Phan creates. She has a way of balancing sweetness with tart and gooey with crunchy without going over the top. Her Strawberry Pavlova is all that. Tropical fruits topped with a green tea custard and a lemon crumble foam disk…simply marvelous. If you're not in a drinking mood, Hopscotch is a great spot to go for just desserts.
Overall
Pretty much eating 'all the animals' and drinking 'all the beers' is a lot to take in for one mouth over the course of an evening. This epic beer dinner adventure at Hopscotch isn't for the meek. $20 Uber cards provided for each guest, it's easy to tell this is a professionally run event for professional eaters and drinkers. Worth a hundred bucks? Absolutely. The beer? Really cool concept to brew custom beers for the evening, but jacuzzi sex easily goes to the food. If you can still find the "1" Anniversary Ale from Valliant, I highly recommend picking it up. After a month, it's aged into a delicious barleywine with big raspberry notes; it's decadent!
I'll see you at the next one!
First
Valiant's First Anniversary, Belgian Barleywine — 8 ounce pour
Forbidden PB&J, strawberry guava jam, pepita butter, brioche, and complementary foie gras.
Second
Lager Barleywine, 8 ounce pour
Mussels, crispy pancetta, roasted pepper citrus coulis
Third
"The Bruce" Wee Heavy Scotch Ale, 5 ounce pour
Crispy pork belly, fried tripe, herb demi glace, blood orange frisee
Fourth
Lacto Cherry Stout, 8 ounce pour
Elk medallion, black garlic demi glace, bing cherry gastrique, bourbon soaked bing cherries
Fifth
Session IPA 5 ounce pour
Duck rillette, Dijon chips, blood orange apples, really really small cilantro
Sixth
Wheat Cherry Ale, 5 ounce pour
Medium Rare Braciola, san marzano tomato sauce, crispy asiago chip, micro basil
Seventh 
Guava Cream Ale, 6 ounce pour
Strawberry Pavlova, green tea custard, lemon crumble